The Justice Teams Network is mobilizing to end police violence in California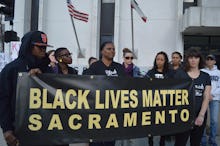 In 2016, California law enforcement killed 157 people, according to the Office of the State Attorney General. The state had the 11th highest rate of police killings in the nation between January 2013 and December 2017, according to data compiled by Mapping Police Violence.
So far in 2018, the state has already seen 41 deadly police shootings, including the high-profile killing of Stephon Clark, who was shot to death by Sacramento police on March 18. Those killed have been disproportionately black or Latino.
Now, several rapid response organizations that provide immediate support to victims of police violence and their families across California have merged their efforts to end state violence. On Wednesday, they officially formed under the title Justice Teams Network.
"We try to get to the scene immediately," said Cat Brooks via phone interview Wednesday. Brooks is the executive director of the Anti Police-Terror Project in Oakland, which developed the rapid response model that organizations within the Justice Teams Network will adapt and use within their communities.
"We train folks on trauma-informative investigating, we train folks on gathering witness testimony and working with families," she continued.
The Justice Teams Network is made up of the Anti Police-Terror Project, the Los Angeles-based Dignity and Power Now, the Anaheim-based Law Enforcement Accountability Network, the Just Love Coalition in north Orange County, Black Lives Matter Los Angeles, Black Lives Matter Sacramento and Fathers and Families of San Joaquin in Stockton.
The network was founded and is advised by Patrisse Cullors, who is also a co-founder of Black Lives Matter.
According to Brooks, the rapid-response procedures in each community may differ slightly, depending on the community's specific needs and the resources each organization has access to. In the case of the Anti Police-Terror Project, for instance, organizers send out an email to 400 people in their volunteer database once community members notify them that law enforcement has killed someone.
"That team then assembles and goes to the scene to identify witnesses, looks for evidence, scans the area for businesses that may have video camera footage and also helps identify the family," Brooks explained.
Brooks added that if a connection can't be made with the family on the scene, the response workers will research social media to find their contact information. After the response team connects with families, they assure them they are ready to receive support.
"We let them know that we're here and sometimes they're ready to engage right away," she said. "Sometimes we wait."
APTP's next step is to collect as much information as possible about the victim and their life to shape a humanizing narrative about them, as a way to combat any dehumanizing media that may circulate, said Brooks. Response workers also help families plan vigils and, if they need legal support, connect them with APTP's in-house pro bono volunteer attorneys.
Black Lives Matter Los Angeles organizer Melina Abdullah explained that her organization's procedures are similar to the protocol Brooks described. But unlike APTP, her branch of the network does not provide legal support.
"We found that it's best for us to not refer families for legal support, and part of that is we don't like to get mixed up with the lawyers and we don't have pro bono lawyers," she explained.
The Justice Teams Network also follows a healing justice model developed by Dignity and Power Now. Abdullah said Black Lives Matter Los Angeles has encouraged healing work locally by assembling volunteer therapy services for families of victims.
"We've been able to get a couple of black therapists and an organization called the Reverence Project to provide therapeutic and healing services for the family," she said.
The Justice Teams Network has published a toolkit on their website for organizations interested in learning the rapid response model. In the document, organizations are encouraged to personalize the guide for their communities. They also have a team that will travel and train organizations.
Currently, the Justice Teams Network is working towards raising and sharing funds to be disseminated among each organization. Up until now, each branch has been responsible for its own funding. Black Lives Matter Los Angeles, for example, is mostly backed by crowdfunding and a small "four-figure" grant, according to Abdullah, which is a portion of the $1.5 million donated to Black Lives Matter's Global Network and other civil rights organizations by Jay-Z's Tidal in 2016.
APTP's funding comes from individual donations via PayPal, said Brooks. The organization also has a volunteer focused on fundraising and securing larger grants.
The Justice Teams Network is currently doing legislative work, specifically toward repealing California's Police Officers Bill of Rights, which the Network says is the "single largest obstacle to police accountability." The bill gives officers tremendous leeway in misconduct investigations, in part by allowing them access to recordings of prior interrogations before they get interrogated again, and by requiring officers' consent before releasing personal information, including photographs, to the press.
Brooks said the Justice Teams Network is creating a publication that's easy for people to understand.
"[You] may hear someone talking about the Police Officers Bill of Rights, but when you ask them what it does, it gets confusing because there is lots of [information]," she said.
The coalition's ultimate goal is to push for a repeal of the Police Officers' Bill of Rights on the ballot in 2020. California's four Black Lives Matter chapters have also supported two bills related to police accountability. The first is SB 1421, a police transparency bill introduced by State Sen. Nancy Skinner on April 2. According to Skinner's statement, the bill will require officials to release records to the public if officers use "serious or deadly force, engage in sexual assault or are dishonest in carrying out their duties."
The second bill is AB 931, a use of force bill introduced by State Assembly members Shirley N. Weber and Kevin McCarty on April 5.
"This bill would limit the use of deadly force, as defined, by a peace officer to those situations where it is necessary to prevent imminent and serious bodily injury or death to the officer or to a third party, as specified," the bill, which was last amended on April 16, states.
These are the first bills that BLM California has ever endorsed, according to Abdullah. "We're more of a protest organization than a legislative organization," she said. "But we think these bills are really important and really integral to our work."