Violet Chachki premieres fashion film highlighting misgendering, transphobia and femmephobia in drag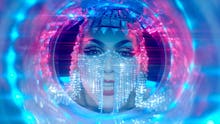 Three years after snatching the crown on RuPaul's Drag Race season 7, Violet Chachki continues to defy the expectations of a drag queen.
In a new 10-minute fashion film/music video for her single "A Lot More Me," Chachki offers up the heightened visuals fans have come to expect, but it's also served with a heaping side of social commentary about the misgendering, transphobia and femmephobia so many in the LGBTQ community deal with. Chachki identifies as gender nonconforming.
Below, Mic chats with Chachki about the song, the accompanying film and her own experiences with femmephobia.
Mic: First of all, congratulations. We love fashion cinema. Did you always envision the project at the scale it is?
Violet Chachki: There's actually a whole airport scene at the beginning that I had thought up. I imagined it to be way bigger, but that's my problem with a lot of projects: I get really, really ambitious before realizing that maybe I should scale back.
There are so many looks throughout this video. Do you have a favorite? The star hat comes to mind.
VC: I definitely love that one for sure. That hat is a vintage piece from the '50s. There's a showgirl warehouse out here in L.A. that I pulled a lot of the pieces from. I love the suit in the beginning because I designed it, and it matches the suitcases and that's kind of a traveling fantasy that is unrealistic for what I actually do. There were some looks that didn't even get shot because there are so many. I'm a clothing hoarder. Like I said, it was a really ambitious project, but we crammed in as many as we could.
It's meticulously conceptual from the bellboys to the waiters to the backup dancers. What's it like crafting an aesthetic that goes beyond just what you look like?
VC: That's what I really, truly love doing. I actually had an amazing team of people helping me with this. I had [designer] BCALLA and [director] Love Bailey, a really great team of queer people, also aesthetic-driven visionaries to help me creative-direct and oversee everything. So it wasn't just me; I can't take full credit, but I definitely had the yes or no. It's cool to put your stamp on a huge project like this and get to say across the board what works in your world.
What's it like to have a creative team entirely comprised of queer folks? How does that change the atmosphere?
VC: It's more frustrating because you do value their opinion and want them to be included, and you want to create space for your chosen family to create together. But when conflict does arise, it gets more intense because you are family, and you are working and living in a relationship together. I really like the idea of having a trans woman directing and behind the scenes. Too often trans women get put on this pedestal of being constantly typecast cast as this muse. It's nice to have someone step up to the role of director or creative director or a producer who's not cisgender.
I have to assume a lot of the themes explored in this video (misgendering, transphobia, femmephobia) are things you've dealt with in your life. Were there certain experiences you pulled from?
VC: Yes, absolutely. There's been so many [laughs] I could talk on that for hours. But yeah, I think it's something we have to deal with on the daily. And also dating a gender-nonconforming person and what that's like. I'm definitely pulling from many life experiences, and there were even more experiences that I wanted to include that we couldn't include.
You mention identifying as gender nonconforming. The LGBTQ community has seemed to talk more about trans individuals over the last few years, but do you think enough attention is paid to genderfluid and nonbinary individuals and their stories?
VC: It really comes down to safety. I think the reason that we talk more about trans individuals, particularly people who have medically transitioned...comes down to safety. I feel like there's fewer spaces for those individuals to be safe and more for someone like me to be safe. I think, at least in my community, that's what it boils down to. Granted, I don't feel safe everywhere I go — and I've definitely had instances of violence against me in and out of drag — but that's why I think we tend to value the stories of people who have medically transitioned a bit more, because there is a bit more. ... It's scarier; it's way scarier having to navigate the world having medically altered your body, visibly showing and being vulnerable.
Does it ever surprise you how discriminatory your own community can be? I'm talking specifically in this instance of the femmephobia.
VC: I mean every day it shocks me. I even sometimes will catch myself being like "Why are you thinking that?" Or "Why are you putting masculinity on a pedestal?" Or "What is that about?" Or "Why are you having these feelings?" Whatever the thoughts may be, it's so engrained in our subconscious to put masculinity on this pedestal. Even as a child, my mom was always like "Why can't you be more manly? Why can't you be more masculine? Why are you so feminine?" Ever since I was 9 years old. You telling that to a 9-year-old — it sticks with them. I think it's the most frustrating when people don't even realize they're doing it. At least when I do it, I take accountability and realize what I'm doing and actively work to combat whatever femmephobia or messed-up thoughts I'm having. How can you be a part of a community and not even actively be thinking about how to help the community or how your actions affect those that you are trying to lift up?
You are, of course, a drag queen and yet that title, and this is me saying this, doesn't feel like it holistically encompasses all that you are. What's your relationship with the term drag queen?
VC: It's interesting because it's changing rapidly — the drag industry and market and sphere and scene and everything. And I'm finding myself relating less and less to what the definition of drag is becoming. It's hard because I am dressed in drag, but I don't consider myself a part of this sort of machine that's been coming out. But I'm also a giant part of the machine that's happening [laughs]. So it's polarizing and a weird place to be for sure.
It sounds like an interesting contradiction.
VC: I have lots of opinions about the drag community and what's working and what's not, but I also thoroughly enjoy it. I guess I'm just old school. I'm like an old-school queen, but I also consider myself to be a performance artist, a burlesque performer, an influencer, a designer, a stylist, a creative director, so I wear many, many hats, but I feel like all of those things are within the umbrella term of drag queen for me right now.
Watch the full fashion film here.