'RuPaul's Drag Race' season 10 episode 7: The always messy Snatch Game continues to be a mess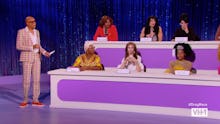 Hello, my ambitious little avocados. Welcome to Fundamental Reading, the weekly column where we chat about RuPaul's Drag Race.
This episode was a big one: It was the Snatch Game, an improv-style riff on the classic game show Match Game. Here, however, the queens were expected to transform into a famous celebrity and swap jokes on-the-fly with Ru and their fellow queens, all while remaining in character.
Snatch Game is famously difficult to pull off, usually functioning as a sort of dividing line for the season; if you make it through Snatch Game, you're a good chunk of the way toward snatching the crown, mother darling. If you succeed there, it's an indication you understand how Drag Race works and that you have what it takes to win. That's the prevailing narrative the show continues to push, anyway.
In reality, Snatch Game is typically a messy, more-misses-than-hits sort of challenge, where only two or so queens actually do well. The rest are often supremely uncomfortable, giving the guy in charge of inserting the shady woodblock sound the bulk of his work for the season. Even promising queens, like All Stars 3's Trixie Mattel, who eventually went on to win the season overall, can flop under the pressure.
Enter season 10, which thus far has presented us with an astoundingly strong crop of competitors. When everyone is neck-and-neck, just one minor slip -up is enough to drop you to the back of the pack. You'd think that would be enough to spur the queens to up their game this week, but that wasn't the case. Snatch Game was just as much of a mess as it always is. That's not to say there weren't some bright spots, however.
Aquaria, in particular, as First Lady Melania Trump, was a surprising standout. Her impersonation was rooted in the public's perception of Melania rather than pure one-to-one mimicry, which helped us feel like we were in on a secret joke with her. Aquaria got a surprising number of jokes in, but writing "Michelle Obama" as her name and giving RuPaul a Tiffany's box with the words "HELP ME!" written inside were especially hysterical.
Aquaria also had the advantage of low expectations on her side. She's not the most eloquent, intentionally comedic queen, so watching her knock it out of the park was especially delightful. Her success on Snatch Game says a lot about her own knowledge of Drag Race, which she's clearly using to her advantage. Unlike many of her competitors, Aquaria went into Snatch Game with a full palette of jokes to choose from, and it served her well.
Monét X Change also did astoundingly well. She went as Maya Angelou, just a few weeks after Chi Chi DeVayne did the same in All Stars 3. Luckily for Monét, Chi Chi completely whiffed it — even spelling Angelou's name incorrectly, bless her heart — which gave Monét plenty of room to exceed expectations. In particular, the poem she read for Ru, in Angelou's carefully measured, husky tone, was the kind of magic Snatch Game is made of: "If these hos try to come for me / I surely will cut thee / I will not hesitate to put thou in a ditch / because Maya Angelou ain't no punk bitch."
The judges also loved Eureka, who went as Honey Boo Boo. This wasn't my favorite of the night, mostly because Eureka somehow already played an obnoxious, loud baby earlier in the season. Though, props to her for finding the nuance between portraying a sexy baby versus a merely hammy one.
The top performances of the night made Miz Cracker's relatively lukewarm portrayal of writer Dorothy Parker particularly disappointing. This should've been an absolute knockout for Cracker, who consistently trades improvised jabs back and forth with the judges during critiques, but it just didn't really come together here.
It's clear Miz Cracker was hoping to model herself after some of Drag Race's more successful performances, like season five's Jinkx Monsoon, who played Little Edie from Grey Gardens; or season nine's Sasha Velour, who played Marlene Dietrich; or even All Stars 3's Aja, who played Crystal Labeija. All three took risks by picking people Drag Race's younger audience wouldn't know, which is brave, but definitely risky. If it goes well, you can introduce a whole generation to an important historical figure and earn some brownie points from Ru. If it goes poorly, you simply look out of touch.
Cracker fell closer toward the latter end. Instead of transforming into someone totally new, Cracker was just acting like a slightly less funny version of Cracker in a less glamorous outfit than usual. This was the second week in a row in which Cracker has failed to stand out in challenges seemingly tailored exactly to her strengths. It remains to be seen whether she'll be able to turn it around or whether she's hit a plateau.
Luckily for Cracker, to do merely fine in Snatch Game still means you did far better than the competition. This brings us to Asia O'Hara, The Vixen and Monique Heart, who played Beyoncé, Blue Ivy Carter and Congresswoman Maxine Waters, respectively. All three simply resorted to swapping insults and yelling at one another. It seems they each went in with half-formed ideas about what their characters would be and resorted to upping the drama when they ran out of material. It was hard to watch.
Based on Snatch Game and the queens' performances in the "Mermaid Fantasy" runway challenge (more on that below), Ru crowned Aquaria the winner of the week, which brought her to the front of the pack alongside Eureka, who has also won two challenges thus far. Monique, Asia and The Vixen all got pretty rough critiques, but Asia just barely edged out the other two and was deemed safe. (The Vixen's very public, messy argument with Eureka — whom the judges adore — on the main stage didn't do her any favors.)
As is customary, the bottom two duked it out in a lip sync — this time, to Carly Rae Jepsen's instantly iconic bop, "Cut to the Feeling." But right away, it became clear Monique didn't know almost any of the words, which she tried to mask by looking down a lot and pulling stunts, all of which completely flopped. She took her wig off at one point, but had no reveal planned, simply exposing her bald head — a major no-no in Ru's book. At one point, she also attempted a cartwheel that looked more like a dramatic re-enactment of someone falling down the stairs.
The Vixen, on the other hand, made up for her lackluster performance earlier in the episode by being fierce, bright-eyed and vicious. Because The Vixen is that girl, she followed up Monique's clumsy cartwheel with a precise, flawless one of her own.
The fact that she knew her words helped, too. Ru felt the same, and sent Monique — who up until now had been a fan favorite — home, illustrating just how close this race is getting. As always, Mic will have an interview with the eliminated queen shortly. Stay tuned for our chat with Monique.
Before we move onto the runway, it would be a shame not to at least mention the popular, once-per-season reading mini-challenge at the beginning of the episode. After all, Ru's exchange with the girls at its start — "Reading is what? Fundamental," — is the namesake of this very column. My favorite read, if you can call it that, was Eureka's desperate plea for Kameron "beefy but bashful" Michael's affection.
Here's how every queen did in the "Mermaid Fantasy" runway challenge in the order they appeared.
Monique Heart
Monique Heart's mermaid fantasy was a little basic in comparison to her fellow queens. Her cotton candy purple hair was gorgeous, but the bodice just looked like a basic, stoned unitard. Monique has owned up to the fact that she's been making some of her looks last-minute, but this one didn't quite come together.
Judges' final ranking: Eliminated.
Miz Cracker
Miz Cracker looked like one of Ariel's mean older sisters this week in her pink and teal get-up. The pearled golden fin accents across the top of her bra and crown were particularly stunning. In Untucked, Cracker confessed she'd spent a lot of money in preparation for Drag Race — more than her college education, she said — and here, it showed.
Judges' final ranking: Safe.
Aquaria
Aquaria continued her political streak this episode by emerging on the runway as an oil-covered maiden of the sea. This look garnered high praise from the judges, with guest judge Kate Upton saying she looked like something out of Italian Vogue.
Judges' final ranking: Winner.
Asia O'Hara
Asia was the only queen who embodied a more grotesque interpretation of a mermaid, to varying degrees of success. The mask was a bold, hilarious, fun choice, but it didn't marry particularly well with her outfit.
Judges' final ranking: Bottom three.
The Vixen
The Vixen looked more polished on the runway this week than she usually does, but it still wasn't quite up to snuff. The cups of her bra weren't attached in the center, causing them to drift too far apart from one another — and they weren't even the same shape to begin with.
Judges' final ranking: Bottom two.
Monét X Change
Monét's concept of a beat-up, warrior mermaid was cool, but the execution was lacking. The gore on her gown wasn't particularly convincing and I'm still not entirely sure what that weapon in her hand was supposed to be. Thank god for her Maya Angelou impersonation.
Judges' final ranking: High.
Eureka
As usual, Eureka looked incredible on the runway — this time, in an Ursula-inspired mermaid look. The blood dripping from her mouth was a little cheap and gimmicky, though. I would've liked her to embody the character more through her movements and facial expressions, instead of relying on a prop. Still, the iridescent jewels on her face, combined with her spiny fish-inspired makeup, was stunning.
Judges' final ranking: High.
Kameron Michaels
This vain, Real Housewives-inspired take on a mermaid was yet another successful night on the runway for season 10's muscle queen. Kameron's very specifically drab, seaweed-colored hair paired nicely with the neon magenta tail, helping to ground a look that might have otherwise looked too childish.
Judges' final ranking: Safe.