Just how much legal trouble is Donald Trump in for the Stormy Daniels hush money payment?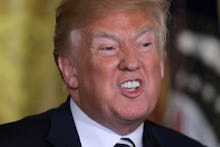 President Donald Trump on Thursday morning seemed to admit that he reimbursed his personal attorney for the $130,000 hush money sum paid to porn actress Stormy Daniels just days before the 2016 presidential election, in order to keep her from speaking publicly about their alleged affair.
Initially, Trump's personal lawyer Michael Cohen said he made the payment to Daniels with his personal funds, but that Trump didn't know about the payment and that he was never reimbursed for the funds. But Trump's new lawyer, former New York City Mayor Rudy Giuliani, said on Fox News on Wednesday night that Cohen was reimbursed — and that Trump knew about it. Trump and Giuliani have now both said that the funds were not campaign money, and therefore there was "no campaign finance violation" committed, according to both.
Multiple campaign finance experts, however, have said in interviews with Mic that this argument is dubious, and the Daniels payment very well could have violated campaign finance law.
Daniel Weiner, senior counsel at the Brennan Center for Justice who specializes in campaign finance issues, said that there are two types of possible violations here.
"They both could be dealt with either by the [Federal Election Commission] or the [Department of Justice]: Making an illegal contribution and accepting an illegal contribution, and failure to report receipt of the contribution and the expenditure," Weiner said.
The FEC rule on this issue also made the rounds on Twitter Thursday morning, after being posted by none other than George Conway — a lawyer and the husband of White House aide Kellyanne Conway.
"If any person, including a relative or friend of the candidate, gives or loans the candidate money 'for the purpose of influencing any election for federal office,' the funds are not considered personal funds of the candidate even if they are given to the candidate directly," the FEC rule states. "Instead, the gift or loan is considered a contribution from the donor to the campaign, subject to the per-election limit and reportable by the campaign."
Given that Cohen paid Daniels $130,000 — a figure which far exceeds the $2,700 contribution limit — it seems he was in violation of campaign finance law.
Experts say, however, that there has to be proof that the money was meant to influence the election.
"The timing so close to the election does support that it was election related," Richard Briffault, a law professor at Columbia University, said. He also added that there's recent legal precedent for a similar hush money payment to a mistress.
John Edwards, while a Democratic presidential candidate, was indicted for a hush money payment to a mistress that prosecutors said was meant to protect his 2008 presidential bid. Edwards was ultimately acquitted.
"The John Edwards case ... [it] proved difficult to persuade a jury that the hush money paid to his mistress was election related, as opposed to personal," Briffault said.
However, Giuliani on Thursday morning gave some serious clout to the argument that the payment to Daniels was in fact made with the election in mind.
"Imagine if that came out on Oct. 15, 2016, in the middle of the last debate with Hillary Clinton," Giuliani said of Daniels' affair allegation on Fox News Thursday morning. "Cohen didn't even ask. Cohen made it go away. He did his job."
Aside from violating campaign contribution limits and reporting requirements, there is also other, more serious risk for Trump.
Weiner said that if Trump, "knowingly and willfully broke campaign finance law," that's a crime, and falls under the Department of Justice's purview.
"If neither violation was knowing and willful, then it definitely just goes to the FEC — because that's a civil violation and you pay a civil fine," Weiner said.
It's unclear whether there is proof that there was a concerted effort to break campaign finance law. But that's where the FBI raid of Cohen's office and home comes into play. Investigators were searching for documents related to the payments Cohen made to Daniels and another woman, Karen McDougal, who also alleged to have had an affair with Trump.
"There's certainly enough in the public allegations for the FEC to take a look at it," Weiner said.