Met Gala 2018: What can we really expect from the "Catholic Imagination" theme this year?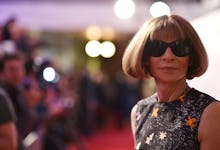 In late 2017, we learned that the 2018 Met Gala theme — and the exhibition that the gala will be celebrating at the Metropolitan Museum of Art in New York City — was going to be "Heavenly Bodies: Fashion and the Catholic Imagination."
Meant to show the longstanding relationship between fashion and religion, the exhibition will showcase fashion alongside extraordinary religious art and liturgical vestments, even with papal garb being shown alongside the fashion that it has undoubtedly influenced.
You can see a small sneak peek below:
So what does this all mean for the gala, which is set for Monday, May 7? Well as with every year, attendees are encouraged to dress according to the night's theme, and that would naturally mean that celebrities will be looking for outfits that incorporate some element of, or feel inspired by, the Catholic church. They may also be looking back at the many runway shows and designers that have clearly been inspired by the Catholic church and its imagery.
Luckily, there's quite a few to choose from. Jean Paul Gaultier's Spring/Summer 2007 collection had models walk down the runway with headpieces that mimicked halos, some complete with images of sacred figures.
Guo Pei's Spring/Summer 2017 collection featured several crosses and dresses that looked like entire churches.
Dolce & Gabbana's Fall/Winter 2013-2014 collection used religious iconography on many of its ornate gowns, and used fabric to mimic stained glass windows.
The list goes on, with designers including Chanel, Elsa Schiaparelli, Riccardo Tisci and Cristóbal Balenciaga all incorporating religious imagery into their designs at one time or another as well. With a little digging, stars can bring back these (now vintage, we guess?) pieces and fit right in, while celebrating this interesting relationship between high fashion and the church, which is what the night is all about.
But what we do all have to prepare ourselves for are the inevitable missteps. We've written about the many things no guest should do under any circumstance (like dress up like Jesus Christ, or the pope) but really, we need to prepare.
It is only really a matter of time, once that red carpet begins, before we see someone come in with some Party City nonsense, babbling on about how they're the pope or Mother Theresa or a Saint. If Kanye West attends (though we doubt he would at this point), take a deep damn breath.
These offensive yet inevitable missteps aside though, we could have a rather stunning red carpet ahead of us. As seen above, gowns and ensembles inspired by Catholicism and the church can be stunning, and a true celebration of couture fashion.
Another hopeful element of the night is that not only is Rihanna, the true patron saint of the Met Gala, in attendance, but she's a co-host. That means, similarly to her 2015 Guo Pei moment, she'll definitely be dressed according to the theme. Given that it is Rihanna we're talking about, expect the most.
Other than that, prepare for gorgeousness and, well, some unfortunateness.