Arizona teachers: Salary raises won't fix classrooms with cockroaches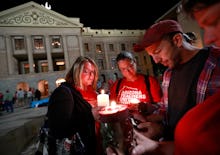 In the early hours of Thursday morning, as the Arizona legislature was settling in for what would become an all-nighter at the statehouse to debate the 2019 budget, Marisa Wisser — a teacher at Sunset Vista Elementary School in the Glendale Elementary School District — felt her eyes well up with tears.
Unable to attend the massive protests outside the Capitol in Phoenix on Wednesday night with her peers in the #RedForEd movement because it was past her young children's bedtime, Wisser was watching the livestream from her home. As the night stretched on, she felt herself becoming increasingly frustrated as legislators continued to defy the pleas of teachers who had rallied the state Capitol by the thousands in the days prior.
During those statewide teachers' strikes — the first in Arizona's history — four budget amendments backed by teachers had been put forth by state Democrats: one amendment to cap class size at 25, one to cap the guidance counselor-to-student ratio at 250:1, one giving members of school support staff a 10% pay raise and one to broaden the definition of "teacher" to include support staff. On Thursday, all of them failed.
At around 6 a.m. local time, Republican Gov. Doug Ducey signed the final budget into law, which includes average raises of 9% for teachers and nearly $400 million in additional education funding for the state's public schools. "Signed," Ducey wrote in a tweet. "Teacher raises are on the way."
Despite Ducey's optimism, however, Wisser and other Arizona educators said that the new budget falls far short of the changes they had advocated for most fervently.
"I honestly don't understand how a person could refuse to cap class sizes," Wisser said. "In the end, education lost out to the greed of the legislators who have obvious conflicts of interest and the other apathetic ones who value party allegiance over the needs of our children and basic human decency."
Among the teachers who had packed the House and Senate galleries to watch Thursday's budget negotiations was Kathleen Hansen War, who said that one representative could be seen playing Solitaire and another staring at his cell phone, only glancing up "when his name was called [so he could] vote the Republican agenda."
According to Hansen War, teachers also observed Rep. Kelly Townsend — a Republican representing Mesa who had previously proposed a class-action lawsuit against teachers during the strike on behalf of the parents and students affected by school closures — watching Netflix as the debates wore on.
"The teachers are by no means finished," Hansen War said. "A PAC committee is being put together for the upcoming elections and we will continue our fight for our kids. They are what is most important and they are why we fight."
Nichole Soyka, an eighth grade reading teacher, said that she felt similarly frustrated by some lawmakers' apparent indifference. Teachers had complained of insufficient school funding that led to problems including tattered and limited school supplies and cockroach-infested classrooms.
"They waited till 2:47 a.m. to begin debating the education budget, and it was honestly so disrespectful to see elected officials refusing to take us seriously, even now," Soyka said.
Although the passage of the budget will herald in the end of the statewide teachers' strikes, many districts remained closed for a sixth day on Thursday amid uncertainty about when the walkout would end. But even as the strike comes to a reluctant close, many teachers say that they're already eyeing the November elections as another chance for action, vowing to keep communities informed so that they can vote out legislators who oppose education funding.
"I am excited to see my students again soon, but I am heartbroken that we had to fight this hard for such a small amount of funding," Wisser said. "I am so proud of the #RedForEd movement for keeping the pressure on as long as we did, but our work isn't done yet. We will remember all of this in November."
Soyka echoed the sentiment, saying that while she's glad the budget passed and is excited to get back to school, "Everyone is ready for November."
"We have all done our research, and so have the members in our communities," she said. "I have faith that we won't stop fighting until we have fully funded education."