Report: Giuliani has warned Trump that Michael Cohen will likely cooperate with investigators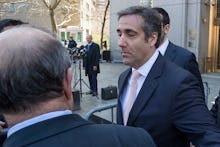 Rudy Giuliani has cautioned President Donald Trump that Michael Cohen, Trump's longtime personal attorney, is likely to flip on him, according to reports Thursday.
According to NBC News, Giuliani, former New York City mayor and one of Trump's newest attorneys, reportedly instructed him not to call Cohen again and told him the attorney would probably cooperate with investigators — something that could pose legal and political problems for the president.
Trump was skeptical of Giuliani's warnings, according to the report, believing his "pit bull" fixer would remain loyal.
NBC News initially wrote that federal law enforcement had tapped Cohen's phone and may have intercepted a call with the White House, but it was later reported that officials had merely been monitoring his incoming and outgoing calls versus listening to the content of those calls.
It's not clear what Cohen could tell investigators if he does, in fact, flip. But as Trump's longtime personal attorney, he has dealt with some of the president's most delicate personal and professional matters.
The FBI raided Cohen's office and home as part of an ongoing investigation into the lawyer's business dealings.
The NBC News report came the day after Giuliani, in an interview with Fox News on Wednesday, seemed to implicate Trump may have violated campaign finance laws.
Speaking to Sean Hannity, one of Trump's most ardent supporters in the media, Giuliani said Trump had reimbursed Cohen for his $130,000 payout to porn actress Stormy Daniels ahead of the 2016 presidential election. That contradicted past statements by Trump — and Cohen — on the matter.
Cohen said in February the hush money came from his own pocket; Trump said in April he was not aware of the payout. White House press secretary Sarah Huckabee Sanders has also suggested Trump had no knowledge of the agreement.
But that's not what Giuliani said.
"They funneled through a law firm, and the president repaid it," Giuliani said Wednesday. In a series of tweets Thursday morning, Trump confirmed he paid Cohen for the agreement with Daniels, whom he accused of extortion, but said the transaction did not violate any laws.
Michael Avenatti, the attorney representing Daniels, did not agree.
"This should never be acceptable in our America," Avenatti tweeted that same night. "We will not rest until justice is served."
May 4, 2018, 10:54 a.m.: This story has been updated.