What did Melania Trump wear her 67th week as first lady? To be honest, not a clue.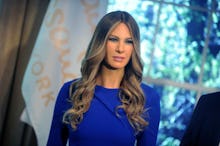 Happy Friday everyone, Melania Trump's gone Gone Girl on us again.
It's a little more understandable this time though. Last week, she had a ton of high-profile and highly publicized appearances, while hosting the president and first lady of France for the Trump White House's first state dinner.
It was all glitz and glam and big white hats.
Perhaps this week she was just tired from all that planning and partying, and decided to keep a low profile for the first time in a while.
It's also a bit of an awkward week for Trump. Former New York City Mayor Rudy Giuliani, who's now one of Donald Trump's lawyers, said this week that Trump repaid his lawyer for the $130,000 hush money to porn actress Stormy Daniels, which obviously didn't go over well with the Trump team.
So, you know, yikes.
Let's hope next week is different for the first lady.
You can read previous recaps of what Melania Trump wore here.