Troye Sivan's new song "Bloom" is the rare pop anthem that's explicitly about gay sex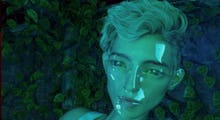 All too often, queer men have no choice but to superimpose their own experiences and tastes onto music, movies and television made by and for straight people — but Troye Sivan's newest pop anthem "Bloom" is decidedly not one of those cases.
Instead, "Bloom," released late Wednesday, is the rare bit of mainstream pop music that's explicitly about sex between two men. Well, it's about as explicit as it can get while remaining mainstream, anyway. Here are a few lines from the song to help you see what I'm talking about:
I need you to tell me right before it goes down/ Promise me you'll hold my hand if I get scared/ Might tell you to take a second baby slow it down/ You should know I, you should know I/ Yeah, I bloom, I bloom just for you/ I bloom just for you
In promoting his new song, the 22-year-old singer hasn't been trying too hard to make "Bloom" palatable for straight audiences. Instead, he's been leaning into the song's queerness in a cheeky — sorry, I had to — way. In an Instagram post Tuesday, Sivan posted a short video in which he looks back at a man in his bed, then faces the camera.
"It's about flowers," he says rather unconvincingly, before a short clip of the then-unreleased song plays. In the post, his location is tagged as "Bikini Bottom."
Shortly after the song was released, Sivan also tweeted — and later deleted — the hashtag #BopsBoutBottoming.
Of course, Sivan is by no means the first person to sing about same-sex encounters — Janelle Monáe and Sam Smith are just two recent examples — but it's still enough of a rarity that Sivan's fans are taking notice and celebrating the song. Beware, some of the tweets posted below get a little raunchy.