Here's who to follow on Instagram for the best 2018 Met Gala red carpet coverage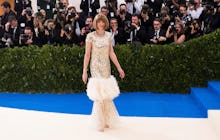 Live events like award shows and the Met Gala, which is Monday, require a bit of work to keep up with.
There's the live televised coverage, which will be happening for nearly three hours on E! starting at 6:30 p.m. Eastern. But you can also keep an eye on the happenings on social media — specifically Instagram.
That's where you'll get exclusive sneak peeks at what your favorites are wearing, via their stylist, their favorite designer or sometimes even their makeup artist. So, we've compiled a list of people who we think are the ones to watch on Monday night, in addition to, you know, Giuliana Rancic.
Stylists
Karla Welch is one of the most prolific stylists in the business, with clients including Tracee Ellis Ross, Sarah Paulson, Elisabeth Moss and Lorde, all of whom we hope attend on Monday.
Law Roach regularly styles Zendaya, Tiffany Haddish and Celine Dion. Cross your fingers for all three women.
Kollin Carter is the man behind everything Cardi B wears. She's not confirmed to attend, but we're hoping.
Alexandra Mandelkorn is Janelle Monáe's stylist, so obviously.
Ilaria Urbinati is the stylist to some of the Met Gala's best-dressed men of all time, including Rami Malek and Donald Glover.
Perhaps the most important person to be following on Monday is Jahleel Weaver, Rihanna's stylist. She's one of the co-hosts of the gala, and is sure to floor us.
Mariel Haenn is the stylist to Jennifer Lopez, Hailee Steinfeld, Ciara, Heidi Klum and more.
Monica Rose is a frequent stylist of Chrissy Teigen's, and has worked with Gigi Hadid and Chanel Iman as well.
Makeup artists and hair stylists
Nikki Nelms' talent as a hair stylist has been seen on the likes of Janelle Monáe, Zoë Kravitz, Solange and Beyoncé.
Yusef Williams has been responsible for Rihanna's hair recently, so yes you want to give him a follow.
Makeup artist Jessica Smalls has clients including Janelle Monáe and Miguel.
Andrew Fitzsimons guy is the hairstylist behind all the Kardashian-Jenners, as well as Shay Mitchell and Ashley Graham.
Often working alongside Fitzsimons, makeup artist Ariel Tejada works with the Kardashian-Jenner family quite frequently, so he's a good one to watch.
Mario Dedivanovic is most famously the makeup artist for Kim Kardashian West, who very well may be in attendance on Monday, as could his other clients like Ariana Grande, Demi Lovato and Hailee Steinfeld.
Hairstylist Laura Polko has a client list that includes both Gigi and Bella Hadid, Emmy Rossum and Olivia Munn.
Mary Phillips' makeup artistry has been seen on the faces of Kendall Jenner, Bella Hadid and Chrissy Teigen.
A favorite among the Kardashian-Jenner clan, as well as Chrissy Teigen and Jessica Alba, hair stylist Jen Atkin is sure to be busy on Monday night.
Designers
While most designers are far too busy on Monday to actively keep on updating their social media presences with who's wearing their designs, one designer's team is particularly dedicated to updating fans, and that's Christian Siriano.
He's been known to dress multiple women on one single red carpet before, and with regular clients including Danielle Brooks, Whoopi Goldberg, Leslie Jones and Janet Mock, he's always a fun follow for these nights.
In a category all on her own, we suggest you all definitely follow Eva Chen, who's Instagram's head of fashion partnerships, by Monday, where she'll be showing off videos of her kids while getting ready, and likely showing videos of her freaking out over seeing, oh, we don't know, Rihanna.
She's good at this.
Vogue's Instagram and entire social media presences across the board will be Met Gala heavy. Since Vogue's got a big stake in this night being a success, they'll probably have exclusive sneak peeks at some of the night's biggest names, and a good roundup of the fashions thus far throughout the night.
And we at Mic will be filing multiple stories that night as stars turn up to the 2018 Met Gala, so we'll keep you posted.