'RuPaul's Drag Race' season 10, episode 7: Monique Heart exit interview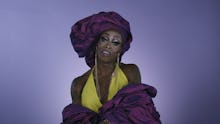 Seven down, six to go.
A reading mini-challenge and Snatch Game maxi-challenge all in one week! How satiated can one's appetite get? And yet, one can be so full while feeling so empty after the unexpected elimination of the ooh-ah-ah sensation Monique Heart during Thursday night's episode of RuPaul's Drag Race.
A less-than-memorable Maxine Waters impression (perhaps she should have gone with Cookie Lyon after all?) combined with a less-than-stunning runway led to what felt like an inevitable bottom two showdown with The Vixen.
A confrontation between those queens backstage leading up to the lip sync in which The Vixen called Heart the "most unprepared for the challenge" out of all the girls led to what seemed like an inevitable tense showdown. That was, until Monique revealed she didn't (nor seemed to care to learn) the words to Carly Rae Jepsen's "Cut to the Feeling."
Her fate, a fate she seemed at peace with going into the lip sync, was quickly sealed and Ru sent Heart packing.
Mic spoke with Heart about the elimination and what's next for her drag career.
Mic: Hi Monique! I'm both very happy and very unhappy to be talking to you right now.
Monique Heart: Girl... exactly.
Gotta start by asking, how are you feeling this afternoon?
MN: Um... a lot. It definitely hurts because the world kept saying, "You're stunning. You're amazing. Why are the judges sleeping on you?" And knowing that so many people wanted me to win. Because I could have. Because I'm that girl. Clearly. It just kinda hurts that I couldn't go farther than what I did.
What were your thoughts going into Snatch Game? Were you confident in your ability to make Maxine Waters funny?
MN: I felt extremely good going in. Just sell it and make it funny, right? I had all these jokes that Trump had said about grabbing a girl by her pussy. So I had worked that out so I could be ready to use that. I didn't feel confident that I could twist [the questions] somehow to make them funny. So then I just said different answers. And then, girl, when the clusterfuck happened, I should have gone "reclaiming my time, reclaiming my time, reclaiming my time."
So going in I felt very confident, after it was done, I still felt confident. On the main stage before the judges, I was like, "Bitch I might be in the bottom, but I'm not in the bottom two." And then I was. And I knew I did not know the words going. I stayed up all night working on my costume, whether people want to accept that or not that's not my problem. The truth is I stand by it, I worked on that costume until 3 in the morning, and then my hair didn't come out the way I wanted so I had to remake it. It's 4 o'clock now. I had to be up at 7. So it was a lot.
You talked in this episode about the disadvantage of coming into the competition without a lot of money. I was wondering if you'd elaborate on this because it seemed like there was a larger statement within what you were saying.
MN: Well, Monet said in her confessional, "Girl I didn't come in with money either." But you had all 14 looks ready and I didn't. So we can't say that. Miz Cracker said she spent more on Drag Race than she did on college, but girl, you went to college! You went and you paid for it, you know? That's not my life. And Kameron said he spent more on Drag Race than he paid for his house. You own? You own a house! And you spent more on Drag Race? We're playing on two different systems, you know what I mean? Two different playing grounds.
I came in knowing that I may have been the weakest contender. But bitch, when it came time to fight — bitch, let's go, throw me in the ring, I'll show you I'm that girl. Showed you from episode one even into the last episode. So it is what it is, girl.
During Untucked, The Vixen grouped you among the "disloyal bitches" and called you the "most unprepared for the challenge." Have you and The Vixen talked things out since that argument?
MN: Yeah, girl, we talked right after it happened. She was in her feelings because she didn't want to go home. The reality is she knew in her damn heart that she was in the bottom. Let's just break this down. Why are you mad right now? What is all this really about? She felt I was being disloyal, that's fine, OK. It should have been her and Asia. Done and done. But Asia had what? Money. She's been sewing for the last five years. She's made all her own. You know what I mean?
You seemed particularly defeated even from the start of the lip sync, which makes more sense knowing that you had gotten so little sleep and were dealing with costume and hair mishaps.
MN: It wasn't that I was defeated, it was more so just a reality. I knew going in that I didn't know these words. I don't care how good I twirl, I don't know these words. You know what I mean? You're going home. It was more of an accepting, like, "OK bitch, let's get through it because you're going home."
Who are you rooting for this season now that you're gone?
MN: Everybody black. And Aquaria.
Let's be shady for a second: Anyone you're not rooting for?
MN: Well, yeah, the ones that aren't black and Aquaria. They're all my sisters. But let's say Eureka. I'm not rooting for her. She's been there before. And if she wins this season, I'm gonna be pissed.
Looking back at this experience as a whole (both the filming and the airing of the episodes), what was the high and what was the low?
MN: The low I would say was being in that damn mermaid costume. That shit was horrible. I did not make it. I am so pissed. I heard Jesus tell me, "You should throw that costume in the dump." This is why it pays to be obedient, do you hear? He told me to make that shit myself, and I was too afraid and didn't want to fuck it up, and I should have made it my damn self. That was my low. My high? From start to finish, I had an amazing ride. Bitch, I narrated that damn show. I was beloved by the production. I was that girl. I'm good. I may not have won the $100,000, but that's fine, they're gonna take taxes out anyway, but I did win the work. Trust, I'm going to be on daytime television.
What's next for Monique Heart?
MN: Daytime television. I want to be on Good Morning America, I want to be on The Real, I want to be on The View as a regular cast member.
Check out Mic's exit interviews with week one eliminated queen Vanessa Vanjie Mateo, week two's eliminated queen Kalorie Karbdashian Williams, week three's eliminated queen Yuhua Hamasaki, week four's eliminated queen Dusty Ray Bottoms, week five's eliminated queen Mayhem Miller and week six's eliminated queen Blair St. Clair.