The James Beard Awards might be getting more diverse, but these graphs show there's a long way to go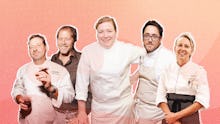 2018 will be the most inclusive year for women and the second-most inclusive for people of color in the history of the James Beard Foundation Awards, which is set to present its 28th annual awards on Monday.
And yet, despite the positive ring of that news, an in-depth analysis by Mic of past nominees and winners shows that the awards skew overwhelmingly toward men and white chefs — something that anyone who's followed the food scene over the last two decades could likely predict. Despite modest steps toward inclusivity, the national food space has a long way to go in recognizing women and minorities. For instance, women are still underrepresented, at 39.3% of the the nominations. Only five black chefs have been nominated for best chef in the history of the awards. And only one woman chef of color has ever been nominated in one of the most competitive regions, New York City.
The James Beard Foundation Awards are arguably the nation's greatest meter for culinary recognition, and by proxy, success. "The Beard Foundation is known for the annual awards, but the foundation as a whole has programming that has long been dedicated to inclusivity and diversity of the industry," said Mitchell Davis, executive vice president of the James Beard Foundation, in an email.
Despite modest steps toward inclusivity, the national food space has a long way to go in recognizing women and minorities.
Winning and nominated restaurants plaster the JBF logo on their websites, and chefs' names are often preceded by a "James Beard award-winning" descriptor in media coverage. To say the awards are coveted — and well-covered by the media — is putting it mildly. One could easily posit that more nominations for women and people of color would lead to more recognition for women and people of color, two groups of people historically underrepresented in culinary awards of all stripes. The James Beard Foundation has "a powerful tool to shine light on everyone working in the industry today, not just those few who always garner attention," Davis added. "And we are aware of both the power and the responsibility we have to move that light around."
According to the James Beard Foundation website, the call for entries is open to all, and nominations are announced in March. The total number of nominees in the best chef and outstanding chef category varies by year, but the number of total nominations has hovered around 60 since 2007. The judges for each category are selected by a committee to avoid conflict of interest. Following last year's allegations of misconduct in the restaurant industry the foundation "decided to indefinitely suspend the voting privileges of select past award winners who have been accused of harassment or misconduct in the workplace," said Davis.
Mic analyzed a total of 1,435 awards stretching back to foundation's first ceremony in 1991, drawing on information publicly available on the James Beard Foundation website.
Entries were fact-checked for race and gender through a combination of existing press coverage and queries to individual chefs. Mic chose to look at nominees and winners, but not the broader category of semifinalists, a designation that's been around since 2008. We also focused specifically on the "best chef" regional categories and the broader "outstanding chef" category. Here are some of the most significant takeaways we found.
More women chefs are nominated this year, but it's not necessarily an upward trend
Women chefs nabbed 24 best chef or outstanding chef nominations in 2018, more than any year prior. With a total of 61 overall nominations, women carved out a greater share of nominations — 39.3% — than ever before. That's the result of a roughly 60% increase in representation year over year for the last two cycles; in 2016, women pulled in 14.7% of nominations and wins. But you don't need to be math whiz to know that this year's showing is still short of 50%.
And although the 2018 nominations mark a new high for women, previous years saw spikes of nominations and awards for women chefs, only to see them drop precipitously in subsequent award seasons. Apart from the awards' first year, the lowest showing of women chefs was in 2011, when they accounted for just 11.7% of nominations and wins. This valley came less than two decades after the second-best showing by women chefs in James Beard Foundation history, when 30.8% of recognized chefs were women.
The year 1992 remains a particularly jarring data point. In the second year of the awards' existence, the outlook for women appeared rosy. Thirteen women were represented across the best chef and outstanding chef categories, accounting for a relatively robust 26.5% of all nominees, and the foundation took a victory lap at that year's awards.
Chef Anne Rosenzweig of the now-defunct New York City restaurant Arcadia led a post-awards dinner buffet themed as "A Salute to Women Chefs," which according to the Chicago Tribune drew "the largest group of top-caliber women chefs ever assembled." Phyllis George, a former Miss America and that year's mistress of ceremonies, gave a rousing exhortation of the promising future awaiting women in the culinary arts.
"Ten years ago, less than 10% of students in culinary schools were women," George told the packed Lincoln Center audience in Manhattan. "Today, the number is 40% and growing."
But the following year, women took only 19.6% of noms, later dropping to 15.2% in 1995. JBF's representation of women never did hit 40% in the best and outstanding chef categories; we're just now nearing it 26 years after George's pep talk. And these days, the bar for equality is even higher: In 2017, 51.6% of the students at the Culinary Institute of America in Hyde Park, New York, were women. The lesson? Just because women gain ground, doesn't mean they'll keep it.
Only five black chefs have been nominated in the history of the awards
But if women chefs have faced an uphill battle in earning industry recognition, the one before people of color is practically vertical. The most racially diverse year in James Beard history was statistically 2017, when 26.1% of recognized chefs were people of color; as of 2014, according to Bureau of Labor Statistics, 51.3% of restaurant chefs and head cooks were African-American, Asian or Hispanic.
Across nearly three decades, only five black chefs have ever been nominated or won a best chef or outstanding chef award, two of whom were nominated this year for the first time. This includes Mashama Bailey of The Grey in Savannah, Georgia, the first African-American woman chef ever nominated in these categories. "I can't believe that in 2018, in a country that's been built with and alongside so many diverse cultures, that I am the first African-American female chef to be nominated for the James Beard Awards," Bailey said. "I'm happy and honored to carry the torch."
Nina Compton of Compère Lapin in New Orleans, who was nominated in 2017 and 2018, is from St. Lucia and of African descent, but is categorized as mixed race within our survey.
This year, slightly fewer people of color were recognized than last year — 21.3% of the total nominees in 2018, down from 26.1% in 2017. The same percentage of POC chefs, 21.7%, were recognized in 2002. Two years after President Barack Obama was elected president, the figure bottomed out in 2010, hitting a low of 5.3% with just three chefs of color. Chefs with Asian heritages were best represented among the chefs of color, at 7.4% of nominees.
Representation varies greatly across regions
But America is hardly a monolith — the numbers don't always paint a full picture, especially when you look at the regional breakdown. Mic's analysis suggests that certain parts of the country are more likely to hand women and people of color a JBF award or nomination.
The Pacific Northwest has recognized the most women and people of color, at 28.57% and 24.49%, respectively, of overall chef nominations. Women are least likely to be recognized in the Southwest, with 13.29% of awards or nominations, while people of color fare the worst in the Northeast with a petty 2.56%.
New York City is one of the most difficult places for minority chefs to gain recognition
In the highly saturated restaurant world of New York City (which is categorized as its own region for the sake of the awards), only seven chefs of color have ever been nominated. Among those chefs, David Chang and Marcus Samuelsson are the two who have won.
Ten chefs who are women have been nominated for the best chef in New York City award — though many have been nominated several times, like Missy Robbins and Jody Williams. Only three have actually won the genderless contest: April Bloomfield, Gabrielle Hamilton and Lidia Bastianich. And the lone woman chef of color who has been nominated? Anita Lo, for three years in a row from 2015 to 2017.
Are we truly closer to progress?
The news that the American culinary scene remains dominated by chefs who are white and are men is perhaps less a shocking revelation and more a confirmation that the struggle for representation is alive and well.
"When ethnic restaurants get recognized nationally, I think it does boost a particular cuisine," said Vikram Sunderam of Rasika, an Indian restaurant in Washington, D.C. Sunderam won the award for best chef in the Mid-Atlantic in 2014. (It doesn't hurt that the Obamas are regulars at his restaurant, either.) "I was the first Indian chef ever to win a James Beard Award. It makes me feel proud. That misconception of Indian food being cheap — I think people are getting over that."
Bailey, the chef at The Grey in Savannah, is also happy to see the James Beard Awards celebrate regional American cuisines. "American food is starting to find its way, so naturally, you're going to see more diversity at the Beard awards," she said. "People who are indigenous to this country, their food is starting to speak out loud, and it's not going to be ignored. It's the natural progression of how seriously America is taking their food."
People who are indigenous to this country, their food is starting to speak out loud, and it's not going to be ignored. — Mashama Bailey
"The James Beard Foundation's mission is to celebrate, nurture and honor chefs and other leaders making America's food culture more delicious, diverse and sustainable for everyone," said Davis of the James Beard Foundation. "This applies to everyone within our community, not just a select or elite few, and we take this mission extremely seriously."
If you were to judge solely by the representation among the James Beard Awards, it might appear that the food culture in America heading in the right direction. But a deeper dig shows that progress is delicate and tenuous, prone to slip away the second it's taken for granted.
Additional reporting by Stephanie Wu.
May 10, 2018, 10:01 a.m.: This article has been updated.