Meet Mashama Bailey, the first African-American woman nominated for best chef at the Beard Awards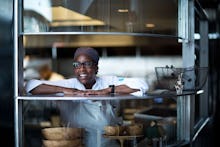 The James Beard Awards ceremony on Monday night was a celebration of the best chefs and restaurants in the country. And there was a lot to celebrate — after analyzing the race and gender of all 1,435 nominees for the regional best chef and outstanding chef awards, we determined that 2018 is the most inclusive year for women and the second-most inclusive for people of color in the history of the James Beard Foundation Awards, which were first presented in 1991.
Drawing on publicly available information, Mic's analysis also found that only five African-American chefs have been nominated in the history of the awards: Patrick Clark (Mid-Atlantic winner) in 1994; Marcus Samuelsson (New York City winner) in 2003, and Edouardo Jordan (Northwest nominee) in 2017.
The first-time African-American nominees in 2018 were Rodney Scott of Rodney Scott's BBQ in Charleston, South Carolina (who won in the Southeast), and Mashama Bailey of The Grey in Savannah, Georgia. Jordan was nominated again this year, and won both best chef and best new restaurant — the first African-American to win the latter award.
Nina Compton of Compère Lapin in New Orleans won best chef in her region, the South. Compton, who is from St. Lucia and was also nominated last year, is the first woman of African descent to win best chef.
Bailey is the first African-American woman to be nominated for the best chef award — in any region — in the history of the event, which has been running for 27 years.
We spoke to Bailey before the awards ceremony to break the news that she was the first African-American woman to be nominated. "I can't believe that in 2018, in a country that's been built with and alongside so many diverse cultures, that I am the first African-American female chef to be nominated for the James Beard Awards," Bailey said. "I'm happy and honored to carry the torch."
"I'm a winner no matter what," Bailey said previously to Mic. "It's a privilege and a pleasure just to be nominated."
Winning comes with its own perks, even beyond the "first" title that Bailey could have had under her belt. "You enter a certain club when you are a winner of a James Beard Award," she said. "I think you start to become an authority, and people in the industry understand that you take your crap seriously and professionally. And as a member of the industry, you take on a responsibility to better it — to become an informative, influential chef to those who mentor you and those who want to do what you do."
Bailey, who is from New York City, moved to Savannah in 2014 to open The Grey with partner John O. Morisano (better known as "Johno"). At the restaurant, which is located in a former segregated Greyhound bus station, Bailey serves her take on Southern food: shrimp hush puppies, black-eyed pea hummus and foie and grits.
"I've always had this competitiveness about me," she said. Before she moved to Savannah, she worked at Gabrielle Hamilton's Prune in New York City. Hamilton is one of the three women to win best chef award in her region, New York City. The award is "something I've had in my brain, something I viewed as an achievement," Bailey said. "But it wasn't my goal for coming down here and opening a restaurant."
In the early years at The Grey, "people would walk into the building and they wouldn't look at me as the chef," Bailey said. "Even now, some people don't know I'm the chef here. They're looking for a man, or they're looking for someone else. They're not looking for someone who looks like me."
Even now, some people don't know I'm the chef here. They're not looking for someone who looks like me. — Mashama Bailey
Savannah, she said, is a region that's racially charged. "A lot of people who cook in the kitchens here are people of color, and they don't get a lot of recognition for it," she said. "To be a person who is representing this area for food is very humbling because I have so much to learn still. But it's very empowering, because I know that I'm the face for many, many people who work in the area."
Recognition in the food world is particularly difficult for women chefs, and doubly challenging for chefs of color. Mic's analysis of the James Beard Award nominees found that in 2018, only 39.3% of nominees were women and only 21.3% of nominees were people of color.
"Men are catapulted in the industry, I think, because they have a strong support group and strong women behind them," Bailey said. "For women, it's harder for them to have that, and that's why you see less women in the kitchen." Bailey said it's hard for her to grasp that while so many of the students at the Culinary Institute of America are women, the ratio is far from reflected in the industry itself.
"I'm just wondering, where are we? Why aren't we sticking with it?" she said. "Finding a home-life balance would help. I think that's why you see less women in the kitchen — they have men to take care of and families to take care of. Of course, there are men who have that as well," she said. But working on home-life balance, she added, is "at least a good place to start."
May 9, 2018, 2:49 p.m.: This story has been updated.