Paul Ryan reverses decision to fire House chaplain after tax reform prayer controversy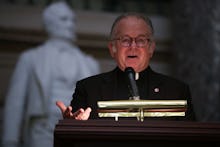 Welcome to Mic's daily read on Donald Trump's America. Want to receive this as a daily email in your inbox? Subscribe here.
Good morning from Emily Singer at Mic.
Here's what's happening in Trump's America:
• The brouhaha over the House chaplain has come to an end after House Speaker Paul Ryan announced the Jesuit priest could keep his job.
About last night: Giuliani put Trump in legal danger
The interviews Trump lawyer Rudy Giuliani gave this week regarding the $130,000 payment to porn actress Stormy Daniels have left the president open to real legal peril, experts told Mic.
Giuliani revealed Trump reimbursed attorney and "fixer" Michael Cohen, who initially paid Daniels the $130,000 sum in October 2016 to keep her from going public about an alleged affair she had with Trump in 2006. The payment came during the height of the campaign, which means it may have been considered a campaign expenditure and, at the very least, should have been included in Trump's campaign finance reports.
Failure to report a campaign expenditure would be considered a civil infraction and could lead to a fine by the Federal Election Commission, according to Daniel Weiner, senior counsel at the Brennan Center for Justice who specializes in campaign finance issues.
However, Giuliani may have opened Trump up to possible criminal charges, as the former New York City mayor gave a motive that showed Trump may have knowingly and willfully kept the payment secret so as not to damage his political ambitions.
"Imagine if that came out on Oct. 15, 2016, in the middle of the last debate with Hillary Clinton," Giuliani said Thursday on Fox News regarding the Daniels payment. "Cohen didn't even ask. Cohen made it go away. He did his job."
Today in Trump's America: Trump addresses the NRA for the first time since Parkland shooting
Trump is off to Dallas on Friday morning to address the NRA's annual conference.
His remarks come less than three months after the Feb. 14 shooting at Marjory Stoneman Douglas High School in Parkland, Florida, which has sparked a national conversation on gun laws in the U.S.
In the immediate aftermath of the shooting, which left 17 students and teachers dead, Trump vowed to defy the NRA and pass stricter gun laws to prevent future mass shootings.
"The reason I had lunch with the NRA on Sunday — I called them; I said, you got to come over. I said, fellas, we got to do something. And they do have great power, I agree with that. They have great power over you people. They have less power over me," Trump said. "I don't need it. What do I need?"
The president even criticized a member of his own party, Sen. Pat Toomey (R-Pa.), for being "afraid of the NRA."
However, after meeting with NRA leadership, Trump quickly reversed course and dropped some of the gun reforms for which he initially expressed support, including raising the age to purchase a rifle. Now he will address NRA members, who have faced the ire of Parkland shooting survivors.
Trump has addressed the NRA annual conference before. Being in a friendly room of boisterous supporters sometimes causes Trump to veer off his prepared remarks. It's very possible Trump will do the same Friday.
Mic will be on the ground at the NRA conference; check back for our coverage.
Capitol Hill happenings: House chaplain reinstated
A fight over the fate of the House chaplain has come to an end after House Speaker Paul Ryan said the Rev. Patrick J. Conroy, a Jesuit priest, could remain in his job.
Members of Congress had expressed outrage after Conroy said Ryan asked for his resignation, which Conroy claimed was sparked by a prayer he had given about tax reform.
"As legislation on taxes continues to be debated this week and next, may all members be mindful that the institutions and structures of our great nation guarantee the opportunities that have allowed some to achieve great success, while others continue to struggle," Conroy said in a Nov. 6 prayer on the House floor amid debate over the Republican tax plan. "May their efforts these days guarantee that there are not winners and losers under new tax laws, but benefits balanced and shared by all Americans."
Conroy originally said he would leave his post at Ryan's request, but reversed course Thursday in a letter that rescinded his resignation — and made some eye-opening allegations.
Conroy said Ryan never actually spoke to him about resigning, instead sending a staffer to do the job. Conroy alleged the staffer "dismissively" said, "Maybe it's time that we had a chaplain that wasn't a Catholic."
In the wake of the letter, Ryan announced he would let Conroy remain in his job and will meet with the priest when the House returns next week to discuss ways to "move forward for the good of the whole House."
"My original decision was made in what I believed to be the best interest of this institution," Ryan said in a statement. "To be clear, that decision was based on my duty to ensure that the House has the kind of pastoral services that it deserves."
House Minority Leader Nancy Pelosi (D-Calif.) welcomed Ryan's decision to keep Conroy on, but said questions remain about his decision to fire Conroy in the first place.
"Speaker Ryan's decision to accept Father Conroy's decision to rescind his resignation and finish his term is welcome news," Pelosi said in a statement. "However, many distressing questions must still be answered about the motivations behind Father Conroy's unwarranted and unjust dismissal."
And the rest…
He's back: Corey Lewandowski, Trump's former campaign manager who was fired in the midst of the 2016 election, is being floated as a potential replacement if Trump fires chief of staff John Kelly.
What in the...: Don Blankenship, a Republican Senate hopeful from West Virginia, released a blatantly racist ad attacking Senate Majority Leader Mitch McConnell (R-Ky.) for helping "China people." McConnell's wife, Elaine Chao, is of Chinese descent. Blankenship will face off with a handful of other GOP candidates in a primary Tuesday for the chance to take on Democratic Sen. Joe Manchin in November.