Who's Sorry This Week? Gigi Hadid, Nike, JK Rowling and other public apologies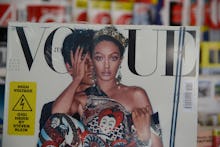 Another week, another deluge of apologies.
In Who's Sorry This Week?, Mic tracks down the most prominent mea culpas from celebrities, companies and other public entities trying to make amends for their various screw-ups.
This week had no shortage of apologies, so let's get right to it.
The White House Correspondents' Association is sorry Michelle Wolf told mean jokes during her comedy set
Saturday, comedian Michelle Wolf — known primarily for her work on The Daily Show — had the honor of hosting this year's White House Correspondents Association dinner, an annual affair in which members of the press rub elbows with people in the presidential administration. Typically, the host performs a bit of stand-up comedy, taking jabs at people in the government and members of the media. (Past performers have included Joel McHale, Seth Meyers, Cecily Strong and Larry Wilmore.)
Wolf's set was no exception, but some of her jokes were seemingly misinterpreted, leading to a firestorm of criticism and uproar. In particular, some critics pointed to a dig at White House press secretary Sarah Huckabee Sanders as an improper joke that crossed a line of decency.
"I actually really like Sarah," Wolf said that night. "I think she's really resourceful. She burns facts, and then she uses that ash to create a perfect smokey eye. ... Maybe she's born with it? Maybe it's lies?"
Strangely, many have interpreted this joke to be a swipe at Sanders' physical appearance, despite it actually being about Sanders' misleading comments at press briefings. In fact, if anything, the joke contains a compliment about her appearance — something Wolf herself has been arguing on Twitter.
Saturday night, the White House Correspondents' Assocation issued an apology-esque statement (it never actually uses the word "apologize"), in which it said Wolf's set "was not in the spirit of [the WHCA's] mission."
Wolf has been playing it off as though she's unbothered by it all. Monday, the comedian posted a picture of herself on Instagram, accompanied by the caption "Not in the spirit of the mission."
Nike is sorry its company is such an awful place for women to work
Over the past few months, Nike has been in an upheaval after allegations of gender imbalance, pay disparity and a toxic "boys club" work culture have come to the forefront.
In March, the Wall Street Journal reported a group of female employees had circulated surveys within the company about alleged inappropriate behavior by their male coworkers. That led to an internal investigation into the alleged toxic nature of the company, which eventually resulted in two top male executives being pressed to leave the company, according to the Journal. Two women have since been hired: Amy Montagne, Nike's new vice president, and Kellie Leonard, its new chief of diversity and inclusion.
On Thursday, Nike held a companywide meeting in which CEO Mark Parker apologized for allowing such a toxic work culture to persist for so long, and for not giving employees robust enough ways to report issues of inequity.
Gigi Hadid is sorry her bronzed skin on Vogue Italia looked like blackface
May's issue of Vogue Italia features model Gigi Hadid — well, a much darker version of her, anyway. Shortly after the cover's design was released, many people criticized Vogue for seemingly darkening her skin beyond recognition, bringing it near the realm of blackface.
Thursday, Hadid posted a lengthy apology statement on Twitter, in which she argued that her skin was edited to look much darker after the shoot, which she said she had no control over.
"The bronzing and Photoshop is a style that [photographer Steven Klein] has done for many years and I believe was what was expected from the shoot ... [but] it was not executed correctly," she said. (Critics have noted that Klein has used blackface in the past.)
"Please know that things would have been different if my control of the situation was different," she continued. "Regardless, I want to apologize because my intention is never to diminish those concerns or take opportunities away from anyone else, and I hope this can be an example to other magazines and teams in the future. There are real issues regarding representation in fashion — it's our responsibility to acknowledge those issues and communicate through them to work towards a more diverse industry."
Joy Reid is sorry for the homophobic comments she doesn't think she said
In a series of blog posts from the early 2000s uncovered by Twitter user @Jamie_Maz and Mediaite, MSNBC host Joy Reid allegedly made a number of homophobic comments, including that "most straight people cringe at the sight of two men kissing." Reid also allegedly wrote that she didn't want to see Brokeback Mountain because she "didn't want to watch the two male characters having sex."
"Does that make me homophobic?" the post continued. "Probably."
Reid admitted the posts were indeed on her personal blog at one time, but she denied having wrote them, saying that her blog had been hacked and that the posts were put in by an "external party." Critics have noted her statements don't quite add up.
Saturday, during her MSNBC show, AM Joy, Reid backtracked from this claim, saying cybersecurity experts she hired "have not been able to prove" her blog was hacked, per CNN. However, she continued to deny that she had written the many homophobic posts on her blog, all while apologizing for the things that were said by whoever may or may not have said them.
"I genuinely do not believe I wrote those hateful things because they are completely alien to me," Reid said, according to Politico. "But I can definitely understand based on things I have tweeted and have written in the past why some people don't believe me. I have not been exempt from being dumb or cruel or hurtful to the very people I want to advocate for. I own that. I get it. And for that I am truly, truly sorry."
J.K. Rowling is sorry she killed Dobby
As has become annual tradition, author J.K. Rowling posted an apology statement on Wednesday, the anniversary of the "Battle of Hogwarts," a particularly death-heavy sequence from her 2007 novel, Harry Potter and the Deathly Hallows. For the past few years, Rowling has cheekily apologized to her passionate fandom for killing off specific beloved characters, including Severus Snape, Remus Lupin and Fred Weasley, according to Entertainment Weekly.
This year, Rowling apologized for killing off Dobby, the meek, mischievous little house elf. (If you wanna get technical, Dobby died before the Battle of Hogwarts, which Rowling acknowledged in her tweet — but fine.)