Why the market for first-time home buyers is getting tougher — and where to look if you're buying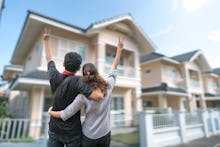 Real estate can be fickle. Last month, NerdWallet came forward with some good news, at least for people who'd already bought a home: The expenses of homeownership were taking up a smaller percentage of people's paychecks, a trend that's continued more or less since the country started recovering from the financial crisis.
But this brief respite may be short-lived, according to the latest housing survey from the polling firm Gallup. Close to two-thirds of homebuyers say they expect their home value to climb in the next year, a percentage that's climbed 9 points in the last two years.
More Americans think their home is going to get more valuable next year than at any point since 2005, right in the midst of the housing bubble. At the time, irresponsible lending artificially inflated home prices to an unsustainable degree. Once the recipients of those bad loans started falling behind on their payments, the whole system came crashing down.
Fortunately, many of the post-crash reforms designed to make the financial system more stable remain in place, at least for now.
In the meanwhile, sharply rising home prices may put more pressure on people who are already struggling to break out of the rental market and put down roots. Even if home buying isn't always the investment opportunity it's made out to be, it's still an immensely popular aspiration: More than a third of millennials who don't have homes yet have started making plans for their down payment, according to a recent Bank of America study.
These numbers suggest that aspiring homeowners might want to save a little faster, since "it is becoming more of a seller's market than a buyer's market," according to Jeffrey Jones, the author of Gallup's report. That's particularly true in growth markets out west, which has seen the most growth in homeowner optimism since 2016.
So where should someone who wants to buy a home look? Texas is a good place to start, according to SmartAsset's latest study examining best cities for first-time homebuyers. That study looked at a number of factors, from the availability of credible lenders to affordability to the reliability of house appreciation, to find the places where first-time buyers are the least likely to find themselves underwater — that is, with a home that's worth less than the mortgage they took out to buy it in the first place.
The best cities for first-time home buyers
5. Tulsa, Oklahoma
Tulsa has the lowest cost per square foot in SmartAsset's study: Homes sell for less than $78 per square foot on average. Renters may fare even better: The average one bedroom in Tulsa goes for about $651 a month, which is helping the city attract more startups and other employers looking for young workers.
4. Houston
Houston has the highest concentration of mortgage lenders who have been approved by U.S. Department of Housing and Urban Development in the country, according to SmartAsset. Home prices have also never fallen year over year, meaning homes have been a reliable investment. It also has a booming job market that has helped bring in lots of young people and invigorated its downtown.
3. Omaha, Nebraska
It's easy to buy a home in Omaha in part due to the wide availability of loans: More than 8 in 10 prospective home buyers who apply for conventional mortgages are accepted, SmartAsset found, the highest rate in the country. The accessibility of mortgage loans and the abundance of corporate employers help explain why more than half of the city's population between the ages of 28 and 32 own homes, one of the highest rates in the country.
2. Oklahoma City, Oklahoma
Oklahoma City is a very affordable city, SmartAsset found. After accounting for closing costs, it's the 12th most affordable city SmartAsset looked at. Despite the cheap homes, prices have still risen or held steady through 2017.
1. Pittsburgh
Pittsburgh topped SmartAsset's list, offering the combination of a low price per square foot and reliable home appreciation. Between 2012 and 2017, the city didn't have a single quarter of negative growth in property values. On the other end of the spectrum, it's not a bad place to settle down either: U.S. News ranked it the eighth best city in the country to retire.
Sign up for the Payoff — your weekly crash course on how to live your best financial life.