Rudy Giuliani seeks to clarify his controversial comments on the Stormy Daniels payment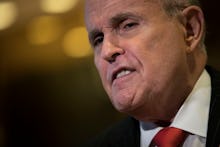 Rudy Giuliani, one of the newest members of President Donald Trump's legal team, and who created a firestorm after confirming that Trump knew about the $130,000 payment to porn actress Stormy Daniels, released a statement Friday afternoon trying to clarify his bombshell revelation.
However, the statement doesn't dispute the key elements Giuliani revealed Wednesday on Fox News — including that Trump not only knew about the Daniels payment, but that he actually reimbursed attorney Michael Cohen for the funds. These are two facts that both Trump and Cohen have long denied.
"This is intended to clarify the views I expressed over the past few days," Giuliani said in a statement.
"First: There is no campaign violation," Giuliani said. "The payment was made to resolve a personal and false allegation in order to protect the president's family. It would have been done in any event, whether he was a candidate or not."
That clarification comes in response to a previous Giuliani claim that Daniels coming forward with an affair allegation days before the 2016 presidential debates would have been a political problem. That was a remark that suggests the payment was made with politics in mind, and should have been reported in Trump's campaign finance reports.
However Daniels had been on Trump's radar since 2011, calling into question Giuliani's assertion that the payment wasn't campaign-related.
"Second," Giuliani continued, "my references to timing were not describing my understanding of the president's knowledge, but instead, my understanding of these matters."
Finally, Giuliani addressed a comment he made about why Trump fired then-FBI Director James Comey, which could have implications for special counsel Robert Mueller's obstruction probe.
Giuliani said on Fox News that Trump, "fired Comey because Comey would not, among to other things, say that he wasn't a target of the investigation. He's entitled to that. Hillary Clinton got that. And he couldn't get that. So he fired him."
In the statement, Giuliani did not address his assertion that Trump reimbursed Cohen for the Daniels payment, nor did he say anything about how much Trump knew about the Daniels agreement.
Earlier on Friday, Trump again changed his story on whether he knew about the payment or the Cohen reimbursement.