Movement Must-Reads: A lynching memorial and the potential pardon of Alice Marie Johnson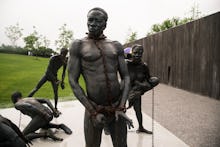 Welcome to Mic's roundup on The Movement. Want to receive this as a weekly email in your inbox? Subscribe here.
The National Memorial for Peace and Justice opened April 26 in Montgomery, Alabama, billed as the first ever memorial dedicated to victims of American lynchings. Mic reported from the opening, the same week that Kanye West — egged on by black conservative rising star Candace Owens — made a series of bizarre proclamations in praise of Owens and President Donald Trump, including that 400 years of slavery was a "choice" for black Americans.
Paired with Kim Kardashian West seeking a pardon from the Trump administration on behalf of Alice Marie Johnson, a 62-year-old great-grandmother serving a life sentence in prison for a non-violent drug offense, and activist coalitions forming to counteract the fallout from police violence in California, the historical and lasting inequities facing black Americans formed the core of the Movement's work this past week.
The result is troubling and remarkable journalism. Read on for more.
From Mic:
Chauncey Alcorn's reporting on the various Candace Owens controversies — first, her bizarre dive into conservatism after the NAACP helped her navigate a racial bullying situation during high school; and second, her Twitter feud with Tomi Lahren over her most famous fan Kanye West's salience as a conservative spokesperson.
Jake Horowitz and Kendall Ciesemier's exciting update on the case of Alice Marie Johnson, a great-grandmother and non-violent drug offender serving a life sentence in prison. Sources tell Mic that Kim Kardashian West, who learned of Johnson's case through Mic's video, is talking to the Trump administration to secure a pardon for the 62-year-old.
Natelegé Whaley on the formation of the Justice Teams Network, a coalition of rapid response teams assembled to aid families in California affected by police violence.
My dispatch from Montgomery, Alabama, and Valdosta, Georgia, where I visited the Equal Justice Initiative's newly opened lynching memorial and then attempted to unravel the story of Eugene Rice, a 1918 lynching victim who may have been related to me.
From elsewhere:
This piece on the painful integration of schools in Texas — where Mexican-Americans comprised much of the segregated minority in the mid-20th century — from the Atlantic.
This piece on the dueling Staceys — Abrams, who is black, and Evans, who is white — vying for the Democratic nomination in Georgia's gubernatorial race at New York.
The New Yorker's profile of philosopher and poet Fred Moten.
And the Washington Post's deep dive about the various enablers who helped facilitate R. Kelly's growing stardom, in spite of increasing allegations and damning evidence of his proclivity toward sexual relationships with underage girls.
That's all for now. Until next week.