From the beginning, Trump has been unable to keep his story straight on Stormy Daniels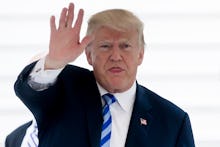 What did President Donald Trump know, and when did he know it?
Those are the questions at the core of a twisting, turning drama involving a hush agreement with porn actress Stormy Daniels — and the answers could land Trump in serious legal and political peril.
Trump and the White House kicked off the saga by claiming that the president knew nothing of the $130,000 Michael Cohen paid to Daniels in 2016, just before the election, to silence her about her alleged affair with Trump 10 years earlier.
But they have struggled to keep that story straight in recent weeks. New details have emerged. Rudy Giuliani, one of Trump's newest lawyers, admitted that the president paid Cohen back, contradicting the original narrative from the White House. Trump himself has offered seemingly contradictory narratives, both in his public statements and on Twitter.
And, on Friday, the New York Times reported that Trump knew of Cohen's payment to Daniels months before he vigorously denied it in a response to reporters aboard Air Force One in April.
Here's how Trump's story has changed since the alleged affair and hush agreement were revealed — and what it could mean for the president going forward.
Trump "vehemently denies" the "outlandish allegations"
The saga began in January, when the Wall Street Journal reported that Cohen — the president's longtime personal attorney and fixer — had paid Daniels $130,000 in October 2016 in exchange for her silence about an affair she says she had with Trump in 2006 — a year after he and Melania Trump were married.
Neither Cohen nor the White House addressed the payout, but dismissed the "outlandish allegations" of the affair.
"President Trump once again vehemently denies any such occurrence as has Ms. Daniels," Cohen said in a statement to WSJ.
In a January statement Cohen produced, Daniels herself denied receiving a hush payment from Trump — but suggested in an interview with Jimmy Kimmel that month that she did not write it nor sign it.
"I do not know where it came from," she said.
In February, Cohen acknowledged the payout, but said that the $130,000 came out of his own pocket and without the knowledge of the Trump campaign or the Trump Organization. He also attempted to shoot down accusations that the payout could have violated campaign finance laws.
"Neither reimbursed me for the payment, either directly or indirectly," Cohen told the Times. "The payment to Ms. Clifford was lawful, and was not a campaign contribution or a campaign expenditure by anyone."
The White House continued to distance Trump from the matter, with White House press secretary Sarah Huckabee Sanders telling reporters in March that "there was no knowledge of any payments from the president, and he has denied all these allegations."
Trump himself had been uncharacteristically silent on the matter. But after Daniels filed a lawsuit against Trump to get out of the nondisclosure agreement, publicly alleged she'd been threatened by someone to keep quiet about the alleged affair and recounted her story at length in a 60 Minutes interview, the president finally addressed the situation.
"Did you know about the $130,000 payment to Stormy Daniels?" a reporter asked Trump aboard Air Force One on April 5.
"No. No," Trump said. "What else?"
"Then why did Michael Cohen make those if there was no truth to her allegations?" the reporter asked.
"Well, you'll have to ask Michael Cohen," Trump said. "Michael is my attorney. And you'll have to ask Michael Cohen."
When asked if he knew where Cohen got the money for the payment, Trump replied: "No, I don't know. No."
"The president repaid it"
Of course, both Trump and Giuliani have contradicted that narrative in recent weeks after the FBI conducted a raid on Cohen as part of a criminal investigation into the attorney.
During a bizarre Fox News interview in late April, Trump for the first time directly acknowledged that Cohen represents him in "this crazy Stormy Daniels deal."
Then, speaking to Fox News' Sean Hannity this week, Giuliani — who recently joined Trump's legal team to "negotiate an end" to the Russia probe — completely contradicted what Trump, Cohen and the White House had been saying for months.
"They funneled through a law firm, and the president repaid it," Giuliani said of the hush money on Wednesday.
It was a stunning admission — one that flew in the face of both Trump's and the White House's denials, and may have implicated the president in campaign finance law violations. But it was apparently part of a secret plan developed by Trump and Giuliani to "get this over with" and attempt to protect Trump from accusations of campaign finance wrongdoing.
On Thursday, Trump attempted to buttress the new narrative with a three-part tweet describing the reimbursement as a "monthly retainer, not from the campaign and having nothing to do with the campaign."
"These agreements are very common among celebrities and people of wealth," Trump tweeted. "The agreement was used to stop the false and extortionist accusations made by [Daniels] about an affair despite having already having signed a detailed letter admitting that there was no affair."
"Money from the campaign, or campaign contributions, played no [role] in this transaction," he added.
But Giuliani himself seemed to suggest that the payout was related to the campaign, telling Fox & Friends on Thursday to "imagine if [the reported affair] came out on Oct. 15, 2016 in the middle of the last debate with Hillary Clinton."
Amid a wave of public scrutiny on Friday, Trump appeared to abandon his and Giuliani's gambit — and to throw his new attorney under the bus.
"Rudy is a great guy, but he just started a day ago," an irritated Trump told reporters of the former New York City mayor that joined his legal team two weeks earlier. "Rudy knows it's a witch hunt, he started yesterday — he'll get his facts straight."
It's not clear from the latest Times report — that he was aware of the hush agreement months before his Air Force One denial — exactly when he learned of the payout, and how much he knew. But campaign finance experts told Mic this week that the president could already be legally vulnerable — and the Times' revelation that top Trump Organization officials may have been aware of the payment since at least last year could bring FBI scrutiny to his business as well.