Gun owners, activists bring differing agendas to NRA convention in Dallas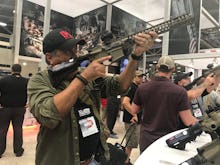 After the Feb. 14 mass shooting at a Parkland, Florida, high school, President Donald Trump said he would take on the NRA and embrace gun restrictions. Then he backtracked.
And speaking to a crowd of supporters in a jam-packed, sold-out forum at 2018's NRA Annual Meetings & Exhibits in Dallas, Trump doubled-down on his support for gun rights, suggesting the president would not support tighter regulations.
"Your Second Amendment rights are under siege, but they will never, ever be under siege as long as I'm your president," Trump said, according to CNN. He also expressed support for allowing teachers to carry guns and adding armed security guards in schools.
Many gun enthusiasts showed up at this year's convention to back the NRA from what they see as threats to gun rights in response to the most recent mass shootings in the U.S., most notably, the October massacre in Las Vegas that left 58 dead; and the March shooting at Marjory Stoneman Douglas High School in Parkland, Florida, that saw 19-year-old shooting suspect Nikolas Cruz kill 17 people. In both shootings, the gunmen used semi-automatic weapons.
The NRA convention is one of the biggest events of the year for gun supporters around the country. This year, it sprawled across 15 acres of exhibit space with more than 800 exhibitors in what looked like an over-the-top trade show but for firearms, ammunition and hunting gear.
The Wall Street Journal reported that nearly 80,000 people are expected to attend the convention, which comes at a particularly heated time for the gun rights debate. Since the Parkland shooting, students and their families have been unequivocally vocal about gun reform and have launched the latest wave of debate, sparking protests calling for gun reform around the country.
Teens inspired by this wave of action showed up outside the NRA convention in Dallas to protest, but their presence only made those inside more fearful — that the government would, at some point, try to take their guns.
"I worry that they'll legislate [guns]," Jane Anne Sellars of Frisco, Texas, said as she and her husband waited in a line of hundreds of attendees Friday morning to see Trump and Vice President Mike Pence speak. "It's not the guns that are causing problems."
Janetta McGee said Trump's speech met her expectations. She wanted him to explain what he would do to protect gun rights amidst the heated debate.
McGee became an NRA member four years ago when, she said, she began to see a stronger effort for gun reform. While she does support stronger enforcement of background checks, she doesn't believe additional regulations will deter criminals. "If they outlaw guns, people who want to do shootings won't give them up," she said.
But outlawing guns isn't what gun reform supporters want, said Dominique Alexander, founder of Next Generation Action Network, a local social justice and civil rights organization.
"Our position is for sensible gun rights," Alexander said. "Our Constitution is our foundation, but laws have to evolve. We're talking about bump stocks and access to assault rifles."
The group led a small but energetic protest Friday evening calling for tighter gun laws starting at Dallas City Hall, a few blocks from the site of the convention. Protesters there held up colorful signs that alluded to the news that NRA's ties to Russia are deeper than previously thought, NRA contributions to Ted Cruz and other politicians as well as a Trump costume and piñata.
And one protester said the NRA has shown to not care about the concerns of people of color — who, he said, have been speaking about gun violence for decades.
"Pretty consistently, if a white person shoots a person of color, the NRA is all about defending them," but never the other way around, Joel Wasinger of Plano, Texas, said "Other first world countries don't have this gun culture," he said. "It's insanity that it's considered a fundamental right."
As far as gun ownership, that is how NRA members see this issue — a fundamental, constitutional right that's deeply ingrained in their culture and lifestyle.
Dennis Rocha, an Austin resident and NRA member for eight years, said protesters have a right to free speech but is against any restrictions. He said the protesters' and survivors' anger is misdirected — the issue is not legal gun owners, but an epidemic of angry, unstable men who commit mass murders. "We're not the bad guys," Rocha said.
Alexander agreed that there's an underlying problem of mental illness in many of the past shootings. But if Congress doesn't want to address funding for mental health care, then it needs to control guns. "Every time we bring this up the NRA raises money to pay off a legislator," Alexander said.
Among the protesters Friday evening were Amelia Kimball, 15; Heer Shah, 14; and Ryan Hess, 14, who held up a sign that read, "When did AR-15s become more important than 15-year-olds?" The Dallas suburb students said they felt empowered by March for Our Lives to speak out, and they're now doing what they can to change the status quo.
"We're tired of feeling scared when we go to school," Kimball said.