Trump suggests "closing up the country" if he doesn't get border wall funding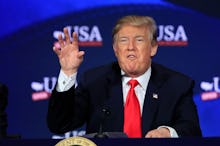 President Donald Trump seemed to suggest even more draconian anti-immigration measures Saturday, telling a crowd in Cleveland that his administration could "close up the country" if Congress doesn't fund his controversial border wall.
"We're going to get the wall," Trump said a panel event on tax cuts in Ohio on Saturday. "Even if we have to think about closing up the country for a while."
Trump was in Ohio to promote the tax plan Republicans' passed in 2017, and to campaign for Ohio Republican senate candidate Jim Renacci.
He touted the success of the bill at the forum, but also veered off into several other topics, including his popularity, his nationalistic take on foreign policy and immigration and even taking what appeared to be a subtle dig against ailing Sen. John McCain (R-Ariz.).
"It's made a big difference in a lot of lives," Trump said of his tax plan. "It's made a tremendous difference."
A group of Ohio residents — including the owner of a furniture store in the state — praised the tax bill and thanked Trump for his work.
After one of the residents spoke negatively about the Affordable Care Act, Trump bashed the ACA as a "disaster" — and seemed to jab at McCain, who last year blocked the Republicans' "skinny repeal" with a now-famous thumbs-down vote.
"You mentioned Obamacare — it's been a disaster," Trump said. "We actually had it beaten except for one vote. You remember that beautiful night. It was defeated but one vote changed."
McCain, who has been in worsening health following a July 2017 brain cancer diagnosis, has long been critical of Trump and his inner circle has reportedly asked the White House for Vice President Mike Pence to attend his funeral instead of the president.
In his appearance Saturday, Trump linked his tax plan with his agenda, returning again and again to his "America First" talking points.
He lamented that the United States has "been taking care of a lot of the world" and that "they never appreciated it." He also touted his hardline immigration policies, particularly on the U.S.-Mexico border, as a solution to America's ongoing opioid crisis.
"We're going to start being smart about our relationship with other countries," Trump said.
He also bragged about his positive numbers in a recent conservative Rasmussen poll, and said that his being "popular" bodes well for Republicans heading into November's midterm elections.
"Our country is doing great," Trump said. "And it's only going to get better."