This week in Trump-Russia news: What's going to happen with the Mueller probe?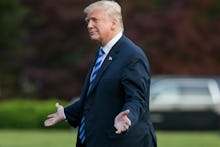 It was a wild week — even by President Donald Trump's standards.
As the president got drawn deeper into possible peril in the Michael Cohen probe, he has seemingly grown even more combative toward Robert Mueller, possibly setting the stage for a long, acrimonious legal battle with the special counsel.
Here's what went down in the Russia investigation this week — and how the FBI's ongoing Cohen probe has factored in so far.
Mueller interview questions leak — kind of
The week got off to an interesting start when dozens of questions Mueller supposedly wants to ask Trump in an interview leaked to the New York Times.
The questions delved into questions of collusion between the Trump campaign and the Russians, as well as potential obstruction of justice on the part of the president — and seemed to suggest that Trump could become a target of the probe.
Trump bashed the publication of the leaked questions as "disgraceful," called the allegations of collusion a "phony crime" and said "it would seem very hard to obstruct justice for a crime that never happened!"
"Witch Hunt!" he tweeted Tuesday.
It was later revealed that Mueller's team had actually provided Trump's legal team with topics for a potential interview and that the president's lawyers had crafted the possible questions around those topics, but the report nonetheless provided a rare glimpse into an investigation that Mueller and his investigators have been tight-lipped about.
Interview seems less and less likely
Meanwhile, the potential interview between Trump and Mueller is seeming less likely by the day.
Trump has adopted a more aggressive posture toward the special counsel's investigation in recent weeks, adding former New York City mayor Rudy Giuliani to his legal team and replacing Ty Cobb — who'd pushed for a cooperative approach the Mueller probe — with Emmet Flood, who had represented Bill Clinton during his impeachment in the 1990s.
Giuliani hasn't closed the door on an interview, but is attempting to negotiate strict conditions on such a testimony. He has further cast doubt on a potential interview, suggesting to Fox & Friends on Thursday that the special counsel is attempting to "trap him into perjury."
"The odds are he wouldn't be interviewed," he told Sean Hannity on Wednesday.
Trump story on Stormy Daniels keeps changing
Statements by Giuliani and Trump this week regarding the Cohen probe would seem to illustrate why the president's legal team has long been wary of an interview with Mueller.
Trump and the White House have long maintained that he had no knowledge of Cohen's $130,000 payout in 2016 to Stormy Daniels — the adult film actress who says she had an affair with Trump in 2006.
But that narrative was torpedoed by Giuliani this week when he said during his Hannity interview that Trump "repaid" Cohen following the payment. Trump himself seemed to confirm as much during a series of tweets as part of an apparent gambit cooked up in secret between the two to protect the president from potential campaign finance law violations.
He only seemed to be drawn deeper into the scandal, though, and amid the scrutiny on Friday attempted to backtrack, changing course and throwing Giuliani under the bus in the process.
"Rudy is a great guy, but he just started a day ago," Trump told reporters of the former New York City mayor that joined his legal team two weeks earlier. "Rudy knows it's a witch hunt, he started yesterday — he'll get his facts straight."
Trump and his allies' inability to get their facts straight, though, is a big reason his attorneys don't want him testifying before Mueller.
Famous for his careless language and propensity for lying, Trump could find himself in legal and political peril in such an interview with a special counsel that has already indicted several in the president's orbit on charges of making false statements to the FBI.
Mueller probe could turn into drawn out legal battle
If Trump doesn't agree to testify, that could set up a legal battle between him and Mueller.
It was reported this week that the special counsel threatened in March to subpoena the president — something Trump's legal team would likely challenge, possibly up to the Supreme Court.
That would almost certainly drag the Mueller probe out even longer — despite Giuliani's mandate to "negotiate an end" to the investigation.
In the meantime, Mueller seems to be chugging along. He requested 70 blank subpoenas in Virginia this week ahead of the trial of former Trump campaign chairman Paul Manafort, and has reportedly interviewed longtime Trump friend Tom Barrack — bringing the probe even closer to Trump's inner circle.
But the special counsel did face one setback this week.
During a hearing for Manafort, who is challenging Mueller's authority in court, U.S. District Judge T.S. Ellis III rebuked Mueller's team, suggesting they were attempting to improperly "turn the screws and get the information you really want" from Manafort regarding Trump.
"You don't really care about Mr. Manafort's bank fraud," Ellis told prosecutors Friday, according to the Washington Post. "You really care about getting information Mr. Manafort can give you that would reflect on Mr. Trump and lead to his prosecution or impeachment."