Stormy Daniels asks Trump to resign on SNL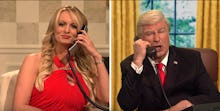 The cold open sketch of Saturday's Saturday Night Live episode featured a bevy of stars taking on the Trump administration's current scandals — including adult film star Stormy Daniels.
The sketch centered on a nervous Michael Cohen (Ben Stiller), as the embattled Trump lawyer frantically called President Donald Trump (Alec Baldwin) and some of the key members of his inner circle, including press secretary Sarah Huckabee Sanders (Aidy Bryant), former Trump doctor Harold Bornstein (Martin Short), Rudy Giuliani (Kate McKinnon) and Ivanka and Jared Trump (Scarlett Johansson and Jimmy Fallon).
While all of the characters in the sketch were played by SNL cast members and other actors, Daniels appeared to play herself for a phone conversation between her and Trump about the ongoing scandal involving an alleged affair between the two and a $130,000 payment by Michael Cohen to keep quiet about it.
This week, Trump's newly hired legal counsel Rudy Giuliani said on national TV that Trump actually reimbursed Cohen for the payment — a payment that the president previously said he had no knowledge of and could violate campaign finance law. The New York Times then reported Friday that Trump knew about the Daniels payment months before denying to reporters that he knew about the payment. The president also continues to deny that the affair took place.
"Rudy, can we speak freely? Are you alone right now?" Cohen asks Giuliani.
"Oh yeah, yeah, I'm pretty much alone right now," Giuliani says, as the camera pans to reveal McKinnon's character currently being interviewed on Fox News. "Yeah, we're good to talk."
Finally, Trump tells Cohen: "Call up Stormy Daniels and fix this once and for all" — and he does.
"Come on Stormy, stop making such a big deal about this. Everyone knows it's just an act," Baldwin's Trump told Daniels.
"I work in adult films. We're not really known for our acting," Daniels countered.
When Baldwin's Trump asked Daniels what it would take for the scandal "to all go away," Daniels had a simple response: "A resignation."
"Being president is like doing porn — once you do it, it's hard to do anything else," Baldwin's Trump said, adding, "Oh come on, we'll always have Shark Week. I've solved North and South Korea, why can't I solve us?"
"Sorry Donald, it's too late for that," Daniels responded, offering a harsh warning while looking into the camera.
"I know you don't believe in climate change, but a Storm's a-comin', baby."