Giuliani says Trump may have paid off other women if it was "necessary"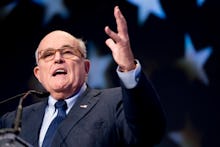 After revealing Wednesday that President Donald Trump reimbursed lawyer Michael Cohen for his payment to Stormy Daniels, newly appointed Trump lawyer Rudy Giuliani appeared on ABC's This Week Sunday to discuss the ongoing Daniels scandal — and posit that she may not have been the only woman Cohen paid off.
In an interview with host George Stephanopoulos, Giuliani emphasized Sunday that the Daniels payment was not in violation of campaign finance law — as some experts have suggested it could be. Rather, the $130,000, which was paid in order to keep Daniels from speaking out about an alleged affair between her and Trump, was a "nuisance payment" similar to those undertaken by many high-profile figures for the sake of their reputation, Giuliani claimed.
"I can prove that it has been done numerous times, not necessarily with President Trump, but with many other people that I and other lawyers have represented," Giuliani said.
Yet when explaining why Cohen allegedly did not tell Trump about the payment, Giuliani also added that the Daniels settlement was not Cohen's only payment on Trump's behalf.
"I did make clear, and I don't know what they are yet ... there were other things involved that had nothing to do with Stormy Daniels. In other words, other amounts of money. This was not uncommon for him to do that," Giuliani said. "If I were him, and I were the president's lawyer, and I had done this in the past, and it had worked out in the past, I would not go to him and bother him two weeks before the election with this thing."
When asked by Stephanopoulos if those other payments could have been to other women, Giuliani said it was not outside the realm of possibility.
"I have no knowledge of that, but I would think if it was necessary, yes," Giuliani said about Cohen potentially making payments to other women. "He made payments for the president, or he conducted business for the president, which means he had legal fees, moneys laid out, and expenditures, which I have to my bills to my clients."
The former New York mayor has renewed interest in the Stormy Daniels scandal in recent days, as Giuliani's reveal that Trump reimbursed Cohen for the Daniels payment has sparked questions over when Trump found out about the potentially illegal payment. The New York Times reported Friday that though Trump claimed not to have known about the payment to reporters in April, he reportedly knew about the payment months before.
"I don't know when the president learned about it, he could have learned about it after, or not connecting it at the time," Giuliani said Sunday about when Trump found out about the Daniels payment.
"What matters to me are two relevant legal things: One, it was not a campaign contribution, because it would have been done anyway. This is the kind of thing I've settled for celebrities and famous people, every lawyer that does that kind of work has. And even if it was considered a campaign contribution, it was entirely reimbursed out of personal funds, which I don't think we'll even get to because the first one is enough," Giuliani also said Sunday.
"So, case closed for Donald Trump, and I think for Michael Cohen."
White House counselor Kellyanne Conway similarly came to Trump's defense Sunday in an appearance on CNN's State of the Union. In an interview with Jake Tapper, Conway specified that Trump's April claim that he didn't know about the payment referred to not knowing about the payment at the time it was made.
Conway added that no other payments to women crossed her desk during the 2016 campaign, and echoed Giuliani in saying that the payment was seemingly routine.
"The president says it's a very typical course of action for famous people or people who are wealthy," Conway said Sunday. "The president said he did this to save his family the embarrassment."
In a separate appearance on This Week Sunday, however, Daniels lawyer Michael Avenatti countered the Trump allies' narrative, saying there is a "significant amount of evidence" that the payment was connected to Trump's 2016 campaign, putting it in violation with campaign finance laws.
"There is no question this had everything to do with the campaign," Avenatti said, adding about Giuliani's earlier ABC appearance: "I think it is obvious to the American people, George, that this is a coverup, that they are making it up as they go along. They don't know what to say, because they've lost track of the truth."