Coming up this week: Primary elections, Melania announces her platform and more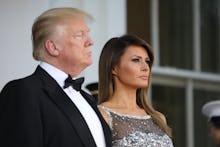 After a week defined by Rudy Giuliani and speculation over what President Donald Trump knew about lawyer Michael Cohen's payment to Stormy Daniels, the next week in politics is instead slated to be broader in scope.
The 2018 midterms will move forward Tuesday as voters head to the polls for primary elections in four states, while the White House will continue its ongoing foreign policy endeavors, face the looming Iran nuclear deal deadline and even offer an address from first lady Melania Trump.
Here's what to expect in the week ahead.
Primary elections: Voters in Indiana, Ohio, West Virginia and North Carolina will cast their ballots Tuesday in primary elections ahead of the 2018 midterms.
Races to watch out for include a GOP battle in West Virginia to determine who will run against Sen. Joe Manchin. Two Republicans, Rep. Evan Jenkins and Attorney General Patrick Morrissey, will try to fend off Don Blankenship, a well-known West Virginia businessman who was sentenced to prison in 2016 for violating federal mine safety standards.
In Ohio, candidates on both sides of the aisle will vie for the opportunity to replace Gov. John Kasich, including former Democratic Congressman Dennis Kucinich and former Obama-appointed Consumer Financial Protection Bureau head Richard Cordray, along with state Attorney General and former U.S. Sen. Mike DeWine and Lt. Gov. Mary Taylor in the Republican race.
Congress returns to Washington: The U.S. Congress will resume this week after a week-long recess. Sen. Ed Markey (D-Mass.) is expected to introduce a resolution to roll back recent net neutrality regulations, while the White House is expected to ask Congress Monday to cut spending from unused spending accounts, Politico reported. The spending cuts, which were downgraded from initial plans to cut the recently passed omnibus spending bill, would be part of a rescissions process that hasn't been used since 2000.
Trump's agenda: The president is slated to host several meetings this week, including a Wednesday celebration with military mothers and a Friday roundtable with CEOs from auto companies. On Tuesday, the president will deliver remarks at a reception for the Federal Judges Association — a group that has defined his presidency, as many federal judges have struck down his controversial policies even as he continues to reshape the American court system with his own appointees.
1968 mine disaster victims seek justice: Families of the 78 men who passed away during a mine explosion in West Virginia will continue to seek justice nearly 50 years after the deadly incident. On Wednesday, families of the victims are expected to ask the 4th U.S. Circuit Court of Appeals to reinstate a wrongful death lawsuit that was filed in 2014, after new information emerged about a ventilation fan in the mine that was disabled the night of the explosion. The explosion had a legislative impact at the time, inspiring Congress to pass the Coal Mine Health and Safety Act of 1969.
Foreign policy: Trump's ongoing deliberation over whether or not to pull out of the Iran nuclear deal will enter its final days this week, as Trump faces a May 12 deadline to determine the deal's fate. The U.S.'s European allies, whom Trump has called on to fix the "terrible flaws" with the deal ahead of the deadline, have urged Trump to stay in the pact, and Iranian President Hassan Rouhani said Sunday that the country has plans in place for whichever decision Trump makes.
"America is making a mistake if it leaves the nuclear accord," Rouhani warned Sunday.
This week could also potentially bring an announcement on Trump's planned meeting with North Korean leader Kim Jong Un after Trump said Friday that a date and location had been set and would be announced soon.
Melania Trump: After initial promises to target cyberbullying in her role as first lady — which has so far been viewed as an underwhelming effort — Melania Trump is set to officially unveil her formal platform as first lady Monday during an event at the White House's Rose Garden.
Rather than focusing specifically on bullying, CNN reported Trump's platform will instead be a "multi-pronged" approach focused on children and their overall well-being. Past first lady initiatives, which were typically introduced earlier in their husbands' presidencies, have traditionally been more focused, including Michelle Obama's Let's Move initiative and Laura Bush's Ready to Read, Ready to Learn initiative for early education and literacy.