Rihanna shuts down the 2018 Met Gala carpet as a blinged-out pope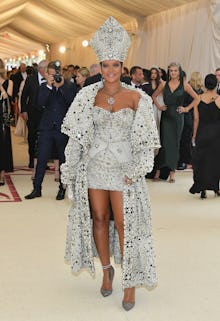 Rihanna has never misunderstood a Met Gala theme. On Monday evening, for a Met Gala centered on fashion and its relationship with the Catholic church, Rihanna showed up dressed like a blinged-out pope, complete with a giant jewel-encrusted hat, lavish jewels and an absolutely stunning pearl and jewel-filled dress and coat.
We are not worthy.
This queen of the Met Gala, who is wearing Margiela, looked like she was dressed by the Vatican itself.
Obviously, it was a hit.
The dress comes after two separate years in which Rihanna, indisputably, brought the night's most memorable looks and sticking to the theme. In 2017, there was that Comme des Garçons, straight from the runway outfit, that celebrated the night's theme of Rei Kawakubo's work at Comme perfectly.
And in 2015, there was that sunshine yellow Guo Pei satin and fur coat that remains one of the best outfits to ever grace the gala red carpet.
No one can top her.