Republicans try to avoid electoral disaster in West Virginia, but it may be too late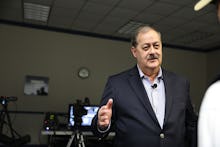 Welcome to Mic's daily read on Donald Trump's America. Want to receive this as a daily email in your inbox? Subscribe here.
Good morning from Emily Singer at Mic.
Here's what's happening in Trump's America:
• Trump lawyer Rudy Giuliani's media tour continues to cause trouble for Trump.
About the weekend: Rudy runs his mouth
Giuliani just can't help himself.
The former New York City mayor and current member of Trump's legal team continued his media tour over the weekend and created yet more problems for Trump. On ABC's This Week, Giuliani suggested there are more women who may have received payments, as porn actress Stormy Daniels did.
Giuliani got himself into trouble last week, when he revealed Trump knew about the Daniels payment and reimbursed lawyer Michael Cohen for the hush money — two revelations that contradict both Trump and Cohen's previous explanation of the Daniels case. Giuliani also suggested the Daniels payment was made with politics in mind, which raises legal trouble for Trump.
Today in Trump's America: Republicans try to avoid another electoral disaster, this time in West Virginia
Voters in West Virginia head to the polls Tuesday to pick their nominees for the 2018 midterm elections.
The race to watch is the GOP Senate primary, where three Republicans are vying to take on Democratic Sen. Joe Manchin — one of the most vulnerable Senate Democrats up for re-election in November, given his state's heavy GOP lean.
However, one of the Republican hopefuls, coal baron Don Blankenship, could thwart the GOP's chances against Manchin. Blankenship spent a year in prison for conspiracy to violate mine safety standards after an explosion at his mine led to the death of 29 men, making it the deadliest mining accident in decades.
The mining disaster, plus Blankenship's blatantly racist ads criticizing McConnell and his Chinese-American wife, have Trump comparing Blankenship to Alabama's Republican Senate nominee Roy Moore, who squandered what should have been an easy race for the GOP last year.
"To the great people of West Virginia we have, together, a really great chance to keep making a big difference," Trump tweeted Monday morning. "Problem is, Don Blankenship, currently running for Senate, can't win the General Election in your State ... No way! Remember Alabama. Vote Rep. Jenkins or A.G. Morrisey!"
It's unclear whether Trump's tweet will be enough to thwart Blankenship's nomination. In Alabama, Trump endorsed Moore's GOP primary opponent and even held a rally for him, yet Moore still won the GOP nomination. Trump then endorsed Moore, despite the fact that Moore faced multiple allegations of child molestation.
Politico also reports Blankenship is surging in the final days of the contest over GOP Rep. Evan Jenkins and state Attorney General Patrick Morrisey, the two other top Republican hopefuls in the contest.
Capitol Hill happenings: Senate gears up for CIA director confirmation hearing
Gina Haspel, Trump's nominee to lead the CIA, is set to face a brutal hearing Wednesday, when the Senate Intelligence Committee will likely grill her on her qualifications to lead the spy agency. Haspel's confirmation hearing could be tough for a number of reasons.
First, Haspel has been a spy for most of her career. This means her record is secret, unlike nominees for other Cabinet positions, and could reveal uncomfortable things about her tenure that could cause controversy. One thing that has been reported about her tenure is her role in the CIA's torture program, which senators are expected to look at closely.
In fact, questions from the committee are expected to be so tough that Haspel wanted to withdraw her nomination to avoid damaging not only her reputation but also the reputation of the CIA, according to a report from the Washington Post.
White House officials, including press secretary Sarah Huckabee Sanders and head of legislative affairs Marc Short, met with her for hours to get her to reconsider her decision, and now feel confident she will remain the nominee, according to the Washington Post's report.
Haspel's confirmation hearing is scheduled for Wednesday at 9:30 a.m. Eastern before the Senate Intelligence Committee.
And the rest…
John McCain's final wishes: The Arizona Republican senator, who has an aggressive form of brain cancer, said he does not want Trump at his funeral and instead wants Vice President Mike Pence to attend, NBC News reported. NBC also reported former presidents Barack Obama and George W. Bush will give eulogies at McCain's funeral.
More ethical woes for Trump officials: Transportation Secretary Elaine Chao is coming under fire for appearing alongside her shipping magnate father in interviews, Politico reported. Chao sat for interviews with her father while Department of Transportation flags could be seen in the background. The incident called into question whether Chao is using her Cabinet role to enrich herself and her father, who has given Chao and her husband, Senate Majority Leader Mitch McConnell, at least $5 million, according to Politico.