A neighbor called the police on 4 Airbnb guests, 3 of whom were black. This is what happened.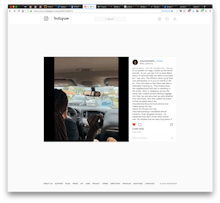 On April 30, police stopped a group of four Airbnb guests — three of whom were black — as they attempted to leave their accommodations in Rialto, California.
Director and filmmaker Kelly Fyffe-Marshall, one of the four people staying at the property, posted about the incident on Instagram. According to her account, the group checked out around 11 a.m. and were packing up their car when they quickly found themselves surrounded by seven police cars.
Fyffe-Marshall alleged a neighbor called police when she saw them loading their suitcases and assumed they were stealing. When they tried to explain they were staying at an Airbnb, a sergeant said he didn't know what Airbnb was, Fyffe-Marshall wrote.
Another person in the group, it was later reported, was revealed to be Donisha Prendergast, the granddaughter of Bob Marley. Prendergast plans to sue the Rialto police department for the incident.
Their full story can be seen in Fyffe-Marshall's Instagram caption and video.
Unfortunately, situations like this aren't rare. Ronnia Cherry and Stefan Grant encountered a similar problem in 2016 in Atlanta, when a neighbor called police after assuming they were thieves.
"We met with Airbnb after the Atlanta mishap occurred and told them that what happened to us isn't an isolated incident," Grant said in an interview. The former Airbnb user went on to found Noirbnb, a house-sharing service that aims to provide a better experience for travelers of color.
"It's not just a matter of educating your guests and your hosts," Grant said. "A big place where Airbnb drops the ball is informing the community, too. Many times, communities will look at Airbnb guests like invaders."
Airbnb's black customers struggle in more ways than one. While some black guests have police called on them, others can't convince hosts to let them stay in the first place. In one example, Rohan Gilkes' request to stay at a cabin in the mountains was rejected — the owner said her family was using the property after all. But when Gilkes had a white friend request a reservation using the same dates, the home mysteriously became available again.
A similar situation happened to author Gregory Selden, according to his Twitter account. He was turned down in 2016 after inquiring about a property in Philadelphia, only to then be approved via a fake profile he made that appeared to belong to a white man.
For its part, Airbnb is taking steps to identify solutions to these problems by meeting with organizations like the NAACP and Color of Change to implement changes to the company's policies and procedures. In 2016, Airbnb also updated its anti-discrimination policy to require all hosts to commit to welcoming guests of all backgrounds.
In a statement to Mic, Airbnb addressed the issue in Rialto:
"Based on what we've learned and consistent with the various news reports, this incident appears to be an issue involving a neighbor, but the fact that this neighbor was not a member of the Airbnb community doesn't change the fact that what happened to our Guests is unconscionable and a reminder of how far we still have to go as a society."
May 8, 2018, 11:10 AM ET: This story has been updated