How the Ohio Democratic governor's primary is further dividing the left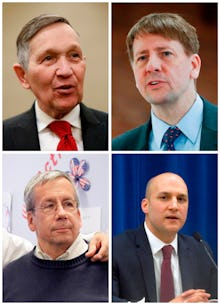 Richard Cordray already had a strong progressive record when he entered the race to become Ohio's next governor. The former Democratic state attorney general became a national icon when he was picked to run the Obama administration's new consumer watchdog group, the Consumer Financial Protection Bureau, where he gained a reputation for cracking down on predatory lenders even as congressional Republicans sought to undermine him at every turn.
So it was something of a surprise when another nationally recognized Ohio progressive jumped into the race against him.
In January, Dennis Kucinich, a former member of Congress and progressive presidential candidate, threw his hat into the ring challenging Cordray for the nomination. Now their primary race has stoked tensions between progressive factions in Ohio in a battle that could end up hurting Democrats' chances of taking back the governor's seat in November.
"There were no complaints that [Cordray] is not progressive enough, clearly he's been a boon for the economic populace forever," Cliff Schecter, an Ohio-based progressive political consultant who hosts the UnPresidented podcast, said. "And I think most people would say, 'Why are you doing this?'"
Members of the national Democratic Party's progressive wing have lined up on either side of the fight, with liberal firebrand Sen. Elizabeth Warren (D-Mass.) throwing her support behind Cordray (Warren was the person who initially came up with the idea for the CFPB and had been a strong supporter of Cordray during his time at the bureau).
But other progressive groups have thrown their support behind Kucinich. Our Revolution, the national grassroots progressive group that grew out of Bernie Sanders' 2016 presidential campaign, supports Kucinich, as does National Nurses United, the largest organization of nurses in the U.S. (Sanders himself has declined to endorse anyone in the race).
By many accounts, 2018 should be Kucinich's time to shine.
For years, the perennial progressive candidate was mocked as a kind of lefty gadfly whose positions were too far left to be taken seriously, only to see those same positions become part of the mainstream years later.
For example, in 2003 comedian Jon Stewart mocked Kucinich's campaign in the Democratic presidential primary for saying he would be open to appointing a transgender person to the Supreme Court. "All rise for the honorable justice Chick with Dick," the liberal comedian said in a joke that, to put it lightly, has not aged well.
Kucinich was also among the first people to advocate for marijuana legalization and single-payer health care, but Kucinich's penchant for taking bold stances outside the Democratic mainstream has also landed him in hot water with some progressives. Kucinich has at various times praised President Donald Trump and stoked the "deep state" conspiracy theories about the president being wire-tapped by the FBI.
After leaving Congress in 2013, Kucinich became a paid contributor for the right-wing Fox News network, playing the part of the liberal foil alongside conservatives like Sean Hannity.
Kucinich has also been called out for having repeatedly met with Syrian President Bashar al-Assad and making sympathetic statements about him In April it was discovered that Kucinich had been paid $20,000 by a pro-Assad group to deliver a speech at an event in London (Kucinich said he plans to return the money).
But none of those things seem to bother Kucinich's progressive supporters in the state, who believe Kucinich's progressive policy platform should put him ahead of the pack.
"[Cordray] doesn't have a vision for Ohio," Dennis Slotnick, the volunteer chair of Our Revolution's northwest Ohio branch, said in an interview. "Dennis does."
Slotnick emphasized Kucinich's plan for single-payer health care in Ohio and Kucinich's pledge not to take corporate money for his campaign as reasons for supporting him.
But he also expressed considerable distrust in Cordray, pointing out that Cordray received top ratings from the National Rifle Association and as an Ohio elected official. As Attorney General of Ohio, Cordray used his power to overturn a local gun control measure in Cleveland. Since then, Cordray has become more open to gun control measures, supporting a ban on high capacity magazines and calling for universal background checks.
Slotnick said he will not go out of his way to support Cordray if he wins the primary.
The deep animosity between Kucinich and Cordray's supporters smacks of the fierce debate that has played out between the Hillary Clinton and Bernie Sanders wings of the Democratic party since the 2016 presidential election, but the respective camps do not divide along the traditional "establishment" vs. "grassroots" lines.
Before supporting Cordray, Schecter worked on the progressive primary campaign of P.G. Sittenfeld for U.S. Senate in 2016. Sittenfeld had been the Ohio grassroots progressive favorite in that year's Senate campaign challenging the establishment candidate, former Democratic Gov. Ted Strickland. It was Strickland, though, who ultimately won the primary and then lost the election to incumbent Republican Rob Portman.
Schecter is also quick to point out that he supports other insurgent progressive primary challengers like Cynthia Nixon, who is campaigning against Andrew Cuomo in New York. For him, Kucinich's campaign represents an instance of overreach of groups like Our Revolution.
"They delegitimized themselves as far as I'm concerned," Schecter said. "They're about drawing attention to themselves and fundraising and paying the people that work there, but not actually electing real people who can solve our problems."
The winner of today's vote will face off against the Republican nominee, either Attorney General Mike DeWine or Lt. Gov. Mary Taylor. No matter who wins the primary on Tuesday, the race between Kucinich and Cordray appears to have created a new fault line between progressives in the state. What remains to be seen is whether or not that split is unique to Ohio or has the potential to expand to progressive primaries across the country.