Melania Trump outlines eyebrow-raising platform that includes tackling cyber bullying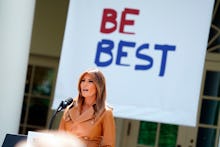 First lady Melania Trump unveiled her official platform on Monday, more than a year after her husband President Donald Trump was sworn into office.
Her new campaign, dubbed Be Best, focuses on teaching children "the importance of social, emotional, and physical health," according to its official website. Specifically, the Be Best campaign focuses on teaching healthy social media usage, as well as how to prevent opioid abuse.
"As we all know, social media can both positively and negatively affect on our children," she said in a speech from the White House Rose Garden announcing her platform. "But too often it used in negative ways. When children learn positive online behaviors early on, social media can be used in productive ways and can affect positive change."
The first lady's campaign, however, is already being mocked by critics, who question the initiative given President Trump's own social media habits, in which he berates critics in harsh terms, often lead those he criticizes to be bombarded with a torrent of hate from others.
The New York Times has kept a running list of the "people, places and things" Trump has insulted on Twitter. The list currently has 459 entries.
Reporters asked White House press secretary Sarah Huckabee Sanders about the irony in the first lady's platform, given Trump's behavior on social media —but Sanders refused to bite.
"The idea that you are trying to blame cyber bullying on the president is kind of ridiculous," Sanders said at Monday's White House press briefing. "When it comes to kids, this is something that is been problematic and something that we have seen over the last decade and the first lady sees it as an important issue."
The first lady did not mention her husband's social media use during the event. Instead, she air-kissed the president after her speech, before watching him sign a proclamation declaring May 7 Be Best Day.
"I am proud to sign the Be Best proclamation," Trump said