Solange stuns at the 2018 Met Gala with a du-rag and a blonde, braided crown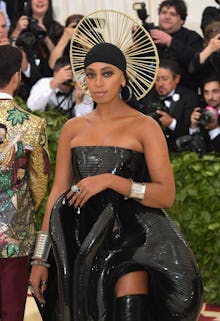 If anyone knows how to do Met Gala fashion (other than Rihanna), it's Solange.
To the 2018 Gala, with its theme of fashion and the Catholic imagination, Solange showed up in a slick, black sculptural Iris van Herpen dress, with high black leather boots, a black du-rag and to top it all off (literally), a very on-theme halo made from blonde braids.
The du-rag was an instant hit on Twitter.
Since she started attending in 2011, Solange has been no stranger to showing everyone else up on the Met Gala carpet. In 2017, she wore a rather amazing Thom Browne creation that looked like a sleeping bag, but chic as hell.
In 2016, she rocked a bright lemon-yellow dress by David Laport, which spawned 1 million Lemonade jokes.
And in 2015, she gave us one of our favorite outfits of hers to date, which looked like a holographic shield by Giles Mini.
For a red carpet that rewards risks like these, Solange remains one of the carpet's best-dressed of all time.