Here are all the best crowns from the very crown-heavy 2018 Met Gala red carpet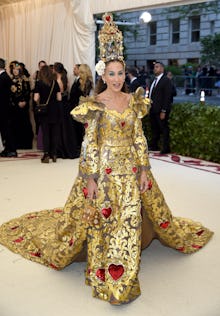 Just a few looks into the 2018 Met Gala red carpet, and it was pretty clear: Anyone who's anyone was wearing a crown Monday evening.
The crowns on the red carpet were varied. Some looked like halos; others more like something royalty would wear.
But they were all beautiful and perfect with the theme of religion and its influence on fashion.
SZA
Sarah Jessica Parker
Cardi B
Solange
Cara Delevingne
Blake Lively
Anne Hathaway
Madonna
Lynda Carter
Emilia Clarke
Lana Del Rey
Mindy Kaling
Amber Heard
Rosie Huntington-Whiteley
Joan Smalls
Lily Collins
Kate Upton