Zendaya serves major Joan of Arc vibes at the 2018 Met Gala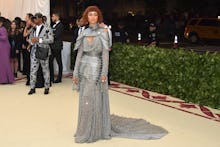 Zendaya gets the Met Gala. Time and time again, she shows up in a gown that makes us all stop breathing for a second, and this year was no different.
To the 2018 Met Gala, under the supervision of her stylist Law Roach, Zendaya wore a Versace twist on a suit of armor, complete with chainmail.
With her hair cut short, it was giving plenty of people Joan of Arc vibes.
For a little retrospective of her incredible Met Gala fashion thus far: In 2017, Zendaya wore this extraordinary Dolce & Gabbana ballgown.
In 2016, she went with liquid gold Michael Kors, and rocked a tight black bob.
And in 2015, for her first gala appearance, she wore a wonderful Fausto Puglisi creation.
In just three years, Zendaya has gone from a Met Gala newbie to one you should always watch for.