Lena Waithe wore a giant rainbow flag cape to the Catholic-themed 2018 Met Gala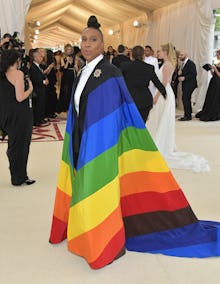 Lena Waithe used her appearance at the 2018 Met Gala to get political.
Sewn into the top of her blazer was a gigantic rainbow LGBTQ pride flag. With every step, Waithe, who is a lesbian, was giving a nod to LGBTQ communities.
With the theme of the night being the Catholic church and its relationship to fashion, this was surely a political statement, as the church has long been unaccepting of homosexuality and LGBTQ communities.
The reaction to the look on Twitter was a positive one, with many remarking that Waithe was one of the few (early on) to get political on this particular red carpet.