The glaring hypocrisy in Trump aides' response to Eric Schneiderman abuse allegations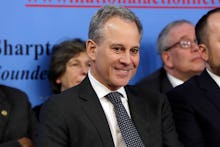 Welcome to Mic's daily read on Donald Trump's America. Want to receive this as a daily email in your inbox? Subscribe here.
Good morning from Emily Singer at Mic.
Here's what's happening in Trump's America:
• The New York State Legislature grapples with the sudden resignation of the state's attorney general, Eric Schneiderman.
About last night: New York attorney general resigns at lightning speed after abuse allegations
New York Attorney General Eric Schneiderman resigned almost immediately Monday night after four women accused him of physical abuse in a piece published that evening by the New Yorker.
Schneiderman is the latest high-profile man to be felled by sexual assault allegations in the #MeToo era. His downfall is especially notable given his tough stance against Harvey Weinstein when a torrent of women came forward to accuse Weinstein of sexual assault and harassment. Schneiderman resigned a mere three hours after the allegations surfaced, saying that while he denies the allegations, they would "effectively prevent me from leading the office's work at this critical time."
Trump aides and supporters reveled in the allegations, as Schneiderman used his office to investigate Trump. The fact that Trump aides were dancing on Schneiderman's political grave is notable for its glaring hypocrisy, given that Trump has been accused by more than a dozen women of sexual harassment. Similarly, many celebrating Schneiderman's downfall also backed Alabama Senate nominee Roy Moore, who was accused of child molestation, and former Trump aide Rob Porter, who was accused of physically abusing two ex-wives.
After the allegations surfaced, first son Donald Trump Jr. went back and dug up old Schneiderman tweets, including an October tweet from Schneiderman that said, "No one is above the law, and I'll continue to remind President Trump and his administration of that fact [every day]."
"You were saying???" Trump Jr. said in a quote tweet.
Trump Jr. dug up another Schneiderman tweet from April in which Schneiderman celebrated the Pulitzer Prize-winning #MeToo reporting of the New York Times and the New Yorker, and replied "Self awareness level: 0."
One could say Trump Jr. also has no self-awareness, given he has attacked women who accuse men of sexual harassment and has stood by his father after the sexual harassment allegations surfaced in the 2016 campaign.
Also joining in the Schneiderman attacks was White House counselor Kellyanne Conway, who also continued to back Moore and push Moore's candidacy — breaking federal campaign rules to do so — in the wake of the child molestation allegations.
Schneiderman's replacement will be chosen by the New York State Legislature.
Today in Trump's America: Trump set to make Iran deal announcement
Trump is set to announce Tuesday whether he will pull the U.S. out of the Iran nuclear deal — a decision that could set off a global fight, as U.S. allies still support the deal.
Trump has railed against the deal for years and promised during the campaign that he would end U.S. involvement if he became president.
A new CNN poll, however, shows most Americans want the U.S. to remain in the deal, with just 29% saying it should withdraw. The president will make the announcement at 2 p.m. Eastern.
Capitol Hill happenings: Trump will send House Republicans a proposal to cut $15 billion in federal spending
Trump has been unhappy with a government funding deal Congress passed earlier this year, and he now plans to send Congress a proposal to shave $15 billion from the already-passed legislation in an effort to be more fiscally conservative, Politico reported.
There is almost no chance the cuts will be enacted, as there is little appetite in the House and Senate to make the cuts.
In fact, all this effort may accomplish is giving Democrats a line of attack in the midterm elections.
That's because $7 billion of the $15 billion in cuts Trump is proposing come from the Children's Health Insurance Program, which gives health insurance to roughly 9 million low-income children, according to Politico.
Trump is also proposing $800 million in cuts from the Center for Medicare and Medicaid Innovation.
And the rest…
More problems for Scott Pruitt: The scandal-plagued Environmental Protection Agency administrator's luck may have finally run out: Senior White House aides are now urging Trump to fire Pruitt, the New York Times reported.