'Drag Race' queen Aja channels her inner witch in new "Brujería" video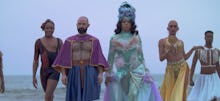 Ayo, sis: After a far-too-early elimination from RuPaul's Drag Race All Stars 3, Aja has returned and she's not holding back, oh at all.
The 24-year-old Brooklyn, New York-based drag queen on Monday released the music video for "Brujería," the Spanish word for "witchcraft," which is the second single off her upcoming EP, which she described as "hood, but intellectual." It's also an absolute banger.
Look, no shade to other queens who have used their fame to boost their musical aspirations, but when a drag queen announces they're going to release an album, the bar isn't all that high. But "Brujería" is unironically great, proving Aja came to slay in a way many of her peers simply can't match.
This much was pretty clear after Aja released the video for the Street Fighter-inspired "Finish Her," but "Brujería" engages more directly with Aja's roots in the gay nightclubs of New York, helping the material feel more grounded and true to her personality as a musician, separate from the more ego-driven, branding-happy world of Drag Race.
"I am not just a drag queen," Aja recently told Paper magazine. "I am a rapper who happens to do drag."
Is it too late to petition VH1 for a redo of All Stars 3? I just really want to hear what her verse would've been on the "Kitty Girl" remix, OK? And before you ask — yes, the "Brujería" video features plenty of Vanessa Hudgens-approved voguing.
Aja's EP, In My Feelings, is set to be out Friday.