Why Eric Schneiderman's resignation could actually be bad for Trump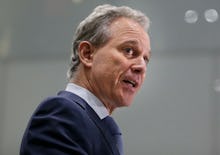 Eric Schneiderman's abrupt resignation on Monday night following the publication of a New Yorker article in which four women came forward to accuse the New York attorney general of physical abuse has sparked sharp reaction from the Trump administration. However, the news of the resignation of one of his main foes may ultimately amount to bad news for the president.
Schneiderman was a top adversary of the president and his agenda, having been involved in multiple lawsuits against Trump administration policies. These cases included the travel ban, the Census changes, proposed changes to birth control access, the rolling back of clean air standards and amendments to consumer financial protections. Schneiderman also led investigations into Trump and administration officials, including a major investigation into Trump University, which led the president to pay a $25 million in a February settlement to allegedly defrauded students.
Trump aides and even first son Donald Trump Jr. celebrated Schneiderman's resignation, dinging Schneiderman for past comments about holding Trump accountable.
"It's really despicable the way they are rejoicing," Peter Kauffmann, a New York Democratic strategist, said in an interview. "The fact of the matter is that the president of the United States brags about committing sex assault. So for them to be spiking the ball as if they're in the end zone is a farce."
However, Schneiderman's abrupt exit in no way means Trump is off the hook. In fact, New York political strategists say the next attorney general is likely to be just as much of an adversary against Trump — if not more so.
"It would be an enormous mistake for the hypocrites in the Trump White House to take any joy in Schneiderman's fall here, because the work goes on," Kauffmann said.
Given the anti-Trump political climate in New York state — just 31% of voters in New York approve of the job Trump is doing, according to a Quinnipiac poll in May — the next attorney general is almost guaranteed to be a Democrat who would continue Schneiderman's investigations and lawsuits hammering Trump.
For now, both chambers of the New York legislature will pick Schneiderman's replacement. Whomever the legislature chooses will serve out the remainder of Schneiderman's term, which expires in January.
The legislature is dominated by Democrats, meaning their pick is almost assured to be someone within the party. The state Senate is split roughly 50-50, but Democrats hold 104 of the state's 150 Assembly seats, giving them a large majority.
Depending on who the state legislature picks, that person could either be a strong contender to keep the seat in the November elections, or could possibly face a primary this summer with other Democrats who want the seat.
Multiple New York state reporters say the legislature may choose Helene Weinstein, a longtime member of the state Assembly.
However, Weinstein is relatively unknown, and would likely face a primary from other Democrats. Other names floated include Rep. Kathleen Rice, a Long Island Democrat and former district attorney who lost to Schneiderman in a primary for attorney general back in 2010; Alphonso David, chief counsel to Gov. Andrew Cuomo; and Queens state Sen. Michael Gianaris.
Given the way Schneiderman's career came to an end, a female candidate may have the upper hand in a potential primary.
"I certainly think the time would be right to have the first female attorney general in New York state history," Kauffmann said.