Trump pulls US out of Iran nuclear deal: The agreement was "defective at its core"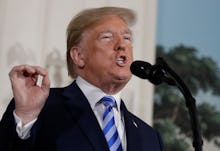 President Donald Trump on Tuesday announced he will pull the United States out of the Iran nuclear deal, saying that the agreement was "defective at its core" and that Tehran had not complied with its terms.
"This was a horrible, one-sided deal that should have never, ever been made," Trump said in a televised address from the White House on Tuesday. "Therefore, I am announcing today that the U.S. will withdraw from the Iran nuclear deal."
In blistering televised remarks, Trump slammed the deal as disastrous, saying it imposes "very weak limits on the regime's nuclear activity" and "no limits at all" on its other malign behavior.
He also asserted that Iran did not adhere to the deal, citing Israeli President Benjamin Netanyahu's recent claim that Iran has continued to secretly pursue its nuclear program — a view that contradicts the findings of international watchdogs.
"It is clear to me that we cannot prevent an [Iranian nuclear bomb] under the decaying and rotten structure of the current agreement," Trump said.
The landmark 2015 accord, which was struck by then-President Barack Obama and Iranian President Hassan Rouhani, freed tens of billions of dollars of Iran's assets in exchange for the country reducing its number of uranium-enrichment centrifuges and shrinking its uranium stockpile by 98%.
Obama told Mic at the time that the agreement "prevents Iran from getting a nuclear weapon" and helps keep the U.S. from having to conduct a potential military strike on the country.
But Trump has long been harshly critical of the deal, blasting it as "one of the most incompetent ever made."
"The U.S. lost on virtually every point," Trump said of the deal after it was struck in 2015. "We just don't win anymore!"
He has continued to criticize the deal as president, even as America's allies, including French President Emmanuel Macron, have lobbied Trump to uphold it.
"It could mean war [if Trump exits the deal]," Macron told Der Speigel on Friday.
But Trump reportedly informed the French president in a phone call Tuesday that he would withdraw the U.S. from the deal, and said in an announcement Tuesday afternoon that he would institute the "highest level" of economic sanctions against Iran.
That could result in Iran again pursuing a nuclear weapons program, something Alexandra Bell — a former State Department official during the Obama administration and senior policy director at the Center for Arms Control and Nonproliferation — told Mic would be an "Iraq War-level mistake" on the part of Trump.
"This is just irresponsible and reckless," Bell said by phone Tuesday. "I think it's an incredibly dangerous thing to do."
In January, Trump demanded that legislation be passed to amend the deal in the following ways: allow "immediate inspections" by the U.S.; "ensure that Iran never even comes close to possessing a nuclear weapon;" ensure the deal lasts "forever"; and state that long-range missile testing is also "subject to severe sanctions" in the deal, just like nuclear weapons.
But Iran countered that it would make "no changes in the nuclear deal neither now nor in the future." Trump's move Tuesday appeared to be an effort to pressure Iran back to the negotiating table.
"There's no evidence that this bull-in-a-china-shop approach will work," Bell said. "It's a deal that's working and a deal that can be fixed."
Trump's decision to pull out of the Joint Comprehensive Plan of Action came Tuesday despite repeated confirmations by the International Atomic Energy Agency that Iran is complying with the agreement. Trump's own administration has found Iran in compliance, and in April Secretary of Defense Jim Mattis praised its verification provisions as "robust."
According to Beatrice Fihn, executive director of the 2017 Nobel Peace Prize-winning International Campaign to Abolish Nuclear Weapons, the fact that Trump is breaking the nuclear deal despite Iran's apparent compliance could damage America's credibility as it attempts to denuclearize the Korean peninsula during a potential summit between Trump and North Korean leader Kim Jong Un.
"It undermines the U.S. position on the negotiations there," Fihn said in a phone interview.
"If I were North Korea, I would look at this and be worried about any potential deal," Bell added.
But according to Jenny Town, assistant director at the U.S.-Korea Institute at the John Hopkins School of Advanced International Studies, reneging on the Iran deal would not likely have a major impact on negotiations on the peninsula and would only send the North Koreans a message they already know: "negotiated settlements tend to fall apart after a presidential transition in either the U.S. or South Korea."
"If anything, it reinforces their belief that whatever is negotiated with the Trump administration now will last as long as Trump is president, but that renegotiations would be likely after Trump is gone," Town said by email.
It's unclear what will happen next.
The other nations involved — China, France, Russia, the United Kingdom, Iran and Germany — could work to salvage the deal. But Iran has threatened to resume its nuclear program if the U.S. withdraws, with Iranian Foreign Minister Mohammad Javad Zarif telling CBS News in April that "there is no reason for Iran to remain in the deal" if "the benefits of the deal for Iran start to diminish."
"It's not acceptable for us to have a one-sided agreement," the foreign minister said.
Trump is likely betting that reinstating sanctions against Iran will pressure them into renegotiating the deal. But the move could also play into the hands of Rouhani's hardliner critics, who will be able to point to the U.S. withdrawal and say, "'See? America is not an honest negotiating partner,'" according to Bell.
In the meantime, according to Fihn, the Trump administration is sending a message to the world that "they're not supporting diplomacy," undermining U.S. credibility on issues of nuclear disarmament and potentially putting the U.S. on a collision course with Iran.
"It's really regrettable that the U.S. would violate a treaty that was so successful," Fihn said. "This is an extremely dangerous move."