From Amal Clooney to Zendaya, check out our hand-painted illustrations from the 2018 Met Gala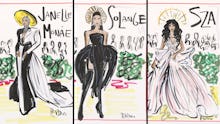 Blame it on a theme that let celebrities channel angels, saints, queens, knights and even the pope, but there's no doubt Monday night's Met Gala fashion truly ruled.
Highlights of the night included Lena Waithe wearing a rainbow flag cape, Rihanna arriving as Pope RiRi, Zendaya showing up looking like Joan of Arc and Solange Knowles bringing a du-rag to the Met.
To celebrate this greatness, we invited artist and illustrator Justin Teodoro to hand-draw his own versions of our 10 favorite looks of the evening.
Amal Clooney
Bella Hadid
Cardi B
Chadwick Boseman
Janelle Monáe in Marc Jacobs
Lena Waithe
Rihanna
Solange Knowles
SZA
Zendaya