White House defends Melania Trump over #BeBest plagiarism allegations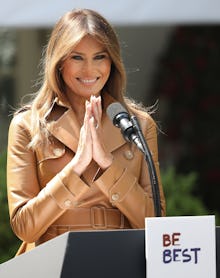 The White House is pushing back on the media Tuesday as first lady Melania Trump, for the second time, is facing allegations of plagiarism, this time regarding her new #BeBest campaign to promote healthy social media use among children.
Images and wording from the campaign, which was announced on Monday, appear to have been ripped directly from a manual from former President Barack Obama's administration. The White House tweaked some wording and updated some images, but otherwise the material posted to the #BeBest website exactly matches a Federal Trade Commission pamphlet from the Obama administration.
After this was pointed out on Monday, the White House changed the language regarding who drafted the guidance from "a booklet by first lady Melania Trump and the Federal Trade Commission" to "a Federal Trade Commission booklet, promoted by First Lady Melania Trump," according to BuzzFeed reporter Ryan Mac.
The White House on Tuesday defended the first lady from plagiarism allegations.
"Despite providing countless outlets with ample background, information and on-the-record comments from the FTC, some media have chosen to take a day meant to promote kindness and positive efforts on behalf of children to instead lob baseless accusations towards the first lady and her new initiatives," White House press secretary Sarah Huckabee Sanders said in a statement.
Sanders then went on to take a swipe at the media.
"Our office will continue to focus on helping children, and I encourage members of the media to attempt to Be Best in their own professions and focus on some of the children and programs Mrs. Trump highlighted in her remarks yesterday," Sanders added.
This is not the first time Melania Trump faced plagiarism allegations. During the Republican National Convention during the 2016 campaign, she seemed to have plagiarized part of her speech from one that former first lady Michelle Obama had given.