University of Florida disciplines man who shoved graduates. Students ID him as chemistry lecturer.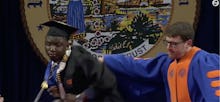 The University of Florida placed an employee on paid administrative leave after several videos showing him grab, shove and jostle black graduates onstage during a commencement ceremony Saturday went viral.
Although Mic was unable to independently verify his identity, students said the marshal was Alexander David Jacobs, a lecturer in the university's Department of Chemistry. Still images of the man from the ceremony also bear a striking resemblance to the headshot on Jacobs' faculty page.
"We have an idea that's him, and some people say that he was their professor so they know that that was him,'" said Christopher Garcia-Wilde, 22, one of the graduates at the ceremony. "[All] the marshals who helped facilitate that graduation are professors within [the College of Liberal Arts and Sciences] ... and some of his students recognized him."
According to video documentation and graduate accounts from Saturday, the marshal physically rushed multiple black students along when they began celebrating onstage after their names were called. A full video recording of the ceremony can be viewed in an archived livestream on the University of Florida's website.
University spokesperson Margot Winick confirmed that the employee in question had been placed on leave pending a review.
"Per university policy, UF will not confirm his identity, nor have further comment while the matter is under review," Winick wrote in an email.
On Saturday evening, the university tweeted a statement addressing the marshal's actions.
"The university is proud of the achievements of every single one of our graduates and regrets that any celebration of the day may have been diminished by those monitoring a graduation ceremony."
By Sunday morning, university president W. Kent Fuchs issued an apology on Twitter.
"During one of the weekend's commencement ceremonies, we were inappropriately aggressive in rushing students across the stage," Fuchs tweeted. "I personally apologize, and am reaching out to the students involved."
Garcia-Wilde and his fellow graduates were waiting for their names to be called during the College of Liberal Arts and Sciences graduation ceremony Saturday afternoon when he noticed a pattern in the way black students were being treated as they crossed the stage.
"We realized students, specifically black students, who were taking their time to celebrate and also to stroll onstage, were being manhandled by a professor, marshal," Garcia-Wilde said. "I didn't want the man to touch me because I thought he was going to wrestle me or something."
Garcia-Wilde added that he's attended past graduations for friends, but has never witnessed that kind of behavior from an employee onstage.
"There has never been a marshal who has aggressively wrestled people or pushed people before," he said. "Usually, they just stand there and wave you along, but this man was putting his hands on and assaulting people."
In an appearance Monday on Good Morning America, Nafeesah Attah, another graduate from Saturday, echoed the sentiment that black students were being unfairly targeted for celebrating.
"His response was not arbitrary, it was definitely contingent upon your race," Attah said on GMA. "White students who were dancing were not perceived as a threat."
Garcia-Wilde said he's not satisfied with the employee being placed on administrative leave, and wants him removed from the faculty.
"I want him fired for assaulting my friends," he said. "He shouldn't be around students or work at the university after demonstrating that kind of behavior."