John Legend is coming to Google phones as a virtual assistant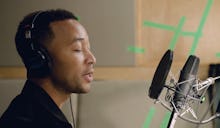 Apple has Siri, Amazon has Alexa and now Google has John Legend.
Google CEO Sundar Pichai announced on stage at the I/O 2018 developer conference on Tuesday that the Google Assistant will now have six voice options. In addition to the five new voices coming Tuesday, one voice will be provided by John Legend, arriving in a later update. According to Pichai, Legend's voice will be called upon during "certain contexts."
Audience members got a demo an hour and a half into the show. In an on-stage example, we see Legend's voice deliver the CEO a response offering the weather: "Good morning, Sundar. Right now in Mountain View it's 65 with clear skies," and calendar events, "At 10 A.M., you have an event called Google I/O keynote. Then, at 1 P.M. you have margaritas."
This isn't the first time Google has teamed up with John Legend. The singer has joined Chrissy Teigen to showcase the Google Assistant in the past, as well as the video chat client Google Duo, surviving comparisons to Arthur the aardvark to do so.
According to Google, John Legend's voice will come to devices "later this year."