Adult Swim orders pilot from Amy Poehler — an overdue step for the male-dominated network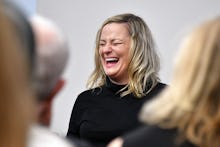 Adult Swim, the late-night, adult-focused programming block of Cartoon Network, has ordered a pilot from comedic powerhouse Amy Poehler. The news could be a sign Adult Swim, a channel notorious for a dismal gender imbalance among its show creators, is starting to respond to widespread criticism.
The pilot from Poehler's Paper Kite Productions is a half-hour comedy titled Three Busy Debras, Deadline reported Tuesday. Comedian Sandy Honig, who will star in Debras, co-created the show alongside Mitra Jouhari and Alyssa Stonoha, according to Variety. Anna Dokoza (Baskets) will direct the pilot. The comedy will follow "three disturbed housewives and their fellow residents of an affluent Connecticut suburb that exists outside of reality as we know it," according to a press release.
"Paper Kite is thrilled to help amplify the bold and bloody voices of the Three Busy Debras," Poehler, who will serve as executive producer, said in a statement. "We hope this show makes you feel strange in all the right ways."
The move to bring on a project helmed entirely by women is somewhat of a statement for Adult Swim, home to shows like Rick and Morty, Aqua Teen Hunger Force and The Venture Bros. As BuzzFeed reported in 2016, Adult Swim has lagged far behind the rest of the TV industry when it comes to the number of shows created by women. For the 2015-2016 TV season, one in every five creator credits belonged to women; at Adult Swim, BuzzFeed found, only one in every 34 credits went to women — despite the fact women made up 42% of its viewership at the time.
Several women formerly employed by Adult Swim told BuzzFeed in 2016 that its workplace was unwelcoming or actively hostile to women creatives, citing the behavior of producer Mike Lazzo, senior executive vice president of Adult Swim. One woman described to BuzzFeed a 2011 incident in which Lazzo allegedly dismissed a question during a meeting about whether there were plans for shows from women comedians by suggesting women in the writers room create "conflict," not "comedy."
A Reddit user who claimed to be Lazzo responded to BuzzFeed's account two days after it was published. "What I actually said was women don't tend to like conflict, comedy often comes from conflict, so that's probably why we (or others) have so few female projects," the user wrote. "Nonetheless, this was a dumb answer to a good question, as Lucille Ball and Gilda Rather to Amy Poehler and Amy Schumer prove my statement a load of generalized nonsense."
Now Poehler herself is a driving force in bringing at least one more woman-created show to Adult Swim's late-night boys' club. There have also been changes within at least one show on the network since the 2016 BuzzFeed report: Rick and Morty co-creators Dan Harmon and Justin Roiland hired four new writers in 2017, all of them women.
Rick and Morty writer Jessica Gao had previously worked on another Adult Swim show, Robot Chicken, where she was the program's first woman writer, IndieWire reported. Gao told the Hollywood Reporter in 2017 that while she'd had good experiences working on both shows, it was a "bummer" Adult Swim had no female showrunners, adding, "It definitely has the vibe of a boy's club."