Iran says it will remain in nuclear agreement after Trump announces US withdrawal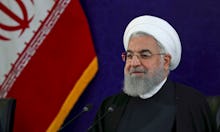 Iranian President Hassan Rouhani on Tuesday slammed President Donald Trump's "hostile" decision to withdraw from the Joint Comprehensive Plan of Action, saying that Iran would continue to abide by the landmark 2015 nuclear agreement even if the United States does not.
"Iran is a country that adheres to its commitments," Rouhani said in an address Tuesday in Tehran. "And the U.S. is a country that has never adhered to its commitments."
Rouhani's address came on the heels of Trump's announcement that he is pulling the U.S. out of the agreement, claiming the deal was "defective at its core" and that Tehran had not been adhering to its terms.
"This was a horrible, one-sided deal that should have never, ever been made," Trump said in televised remarks Tuesday afternoon. "It didn't bring calm, it didn't bring peace and it never will."
But proponents of the JCPOA say it was working, and the International Atomic Energy Agency has repeatedly concluded that Iran was complying with it.
Tearing up the agreement is "irresponsible and reckless," Alexandra Bell, a former State Department official during the Obama administration and senior policy director at the Center for Arms Control and Nonproliferation, said in a phone interview Tuesday. "It's a deal that's working and a deal that can be fixed."
The agreement — brokered in 2015 by Rouhani and then-President Barack Obama — eased sanctions against Iran in exchange for significant reductions of its uranium stockpile and uranium-enrichment centrifuges. Defense Secretary Jim Mattis has praised its "robust" verification measures as recently as April.
But Trump has long argued the deal was "incompetent," and has called for a stronger agreement. On Tuesday, he announced he would be imposing the "highest level" of economic sanctions against Iran.
Rouhani said after Trump's announcement that the United States is "not respecting international commitments" and said Iran will negotiate with the JCPOA's other signatories to salvage the deal. But he also warned that Iran will be ready to restart its nuclear program in the coming weeks.
In a joint statement Tuesday, British Prime Minister Theresa May, German Chancellor Angela Merkel and French President Emmanuel Macron expressed "regret and concern" over Trump's decision but vowed "continuing commitment" to the landmark deal.
"This agreement remains important for our shared security," the leaders, each of whom urged Trump in recent days to remain in the deal, wrote in the statement. "We urge all sides to remain committed to its full implementation and to act in a spirit of responsibility."