Pro-Trump businessman Mike Braun defeats sitting congressmen to win Indiana GOP Senate primary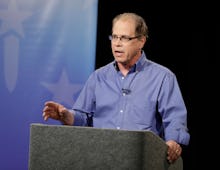 On Tuesday, two of Indiana's sitting Republican members of Congress lost out on the chance to challenge one of the U.S. Senate's most vulnerable Democrats come November.
Republican businessman Mike Braun won the Indiana Republican Senate primary Tuesday, defeating U.S. Reps. Todd Rokita and Luke Messer. The Associated Press called the race just before 9 p.m. Eastern, with Braun leading his two opponents by more than 10 percentage points.
The race had been one of the most heated GOP primaries in the 2018 cycle, with all three men jockeying for the position of most pro-Donald Trump candidate. Ironically, both of the congressmen in the race had been critical of Trump during his 2016 campaign.
In multiple interviews during the 2016 campaign cycle, Messer questioned whether or not Trump had some kind of "personal tick" where he "can't control what he has to say." In February of that same year, Rokita told a local news reporter that he found the president "vulgar, if not profane" in explaining why he supported Sen. Marco Rubio (R-Fla.) in the Republican presidential primary.
Those comments likely helped Braun, a former state legislator, win the race to be identified as the most pro-Trump of the three. This is despite the fact that Braun's record as a state senator is more moderate, and he even supported some environmentalist measures.
Braun spent more than $4 million of his own money in the race and took out a series of negative ads against his GOP opponents. This made the Indiana GOP senate primary one of the most expensive races in this 2018 cycle so far.
In November, Braun will face off against incumbent Democratic Sen. Joe Donnelly — who won his seat in the conservative state in 2012, thanks in part to his opponent Richard Murdoch's outlandish claim that God intends for women to be raped.