Trump announces North Korea has released three American detainees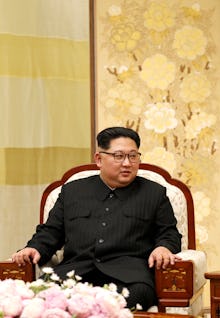 Three Americans who had been detained in North Korea have been released, President Donald Trump announced on Twitter Wednesday morning.
The detainees are returning to the United States with Secretary of State Mike Pompeo, who was in North Korea to set the terms of a meeting between Trump and North Korean leader Kim Jong Un.
"I am pleased to inform you that Secretary of State Mike Pompeo is in the air and on his way back from North Korea with the 3 wonderful gentlemen that everyone is looking so forward to meeting," Trump tweeted Wednesday morning. "They seem to be in good health. Also, good meeting with Kim Jong Un. Date & Place set."
One of the detainees was taken during former President Barack Obama's administration, while the two others were taken after Trump took office. The fate of the detainees has been talked about publicly for nearly a week after Trump lawyer Rudy Giuliani said on Fox News that Kim would release them.
"We got Kim Jong Un impressed enough to be releasing three prisoners today," Giuliani said during an appearance on Fox & Friends. Giuliani's comments frustrated some Trump administration officials, who said he wasn't authorized to speak on behalf of the State Department.
As for the meeting between Trump and Kim, it's still unclear when and where that will take place. Trump said those details have been worked out but didn't reveal anything further.
Trump is set to greet the detainees early Thursday morning when the flight they are on lands in Maryland.
"Secretary Pompeo and his 'guests' will be landing at Andrews Air Force Base at 2:00 A.M. in the morning. I will be there to greet them," Trump tweeted. "Very exciting!"