Both parties avoid disaster in a spate of primaries in key midterm contests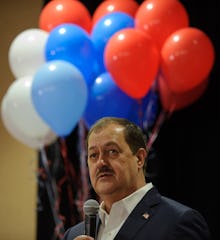 Welcome to Mic's daily read on Donald Trump's America. Want to receive this as a daily email in your inbox? Subscribe here.
Good morning from Emily Singer at Mic.
Here's what's happening in Trump's America:
• The White House will face questions about the latest bombshell in the Russia investigation: A Russian oligarch has been questioned by the special counsel's team after he gave hundreds of thousands of dollars to a shell company run by Trump lawyer Michael Cohen. Cohen also used the shell company, Essential Consultants, to make the hush money payment to porn actress Stormy Daniels.
About last night: Both parties avoid disaster in a spate of primaries in key midterm contests
The first big primary night of the year took place Tuesday, as voters in four states with key midterm election contests headed to the polls. Both parties avoided the major disasters that could have taken important races off the map had certain unelectable candidates won the nominations.
In West Virginia, Republicans dodged a Don Blankenship bullet, as the convicted criminal who ran racist ads and who would have been a thorn in the side of Senate Majority Leader Mitch McConnell lost a Senate primary. Despite talk of a Blankenship surge, the coal baron came in a distant third. Republicans instead will have state Attorney General Patrick Morrisey as their nominee to face off with incumbent Democratic Sen. Joe Manchin.
McConnell, who Blankenship dubbed "Cocaine Mitch," took a victory lap after Blankenship's loss, posting a sarcastic image of himself with cocaine dust around him — a play off the Netflix show Narcos.
Manchin is one of the most vulnerable Senate Democrats in the November midterms. But he, too, got good news Tuesday night: Despite the fact that he didn't face a competitive primary, Manchin himself got almost as many primary votes as the entire GOP primary field combined.
In Ohio, Democrats avoided disaster in a gubernatorial primary when former Rep. Dennis Kucinich lost in a landslide to Richard Cordray, the former director of the Consumer Financial Protection Bureau. Cordray was backed by establishment progressives, while Kucinich had support from Our Revolution — the political group tied to Sen. Bernie Sanders. (Sanders himself didn't endorse Kucinich, however.) Democrats feared Kucinich's ties to Syrian dictator Bashar Assad, bizarre commentary as a paid Fox News commentator as well as previous praise of Trump would make him a problematic general election candidate.
Aside from those two races, the other main takeaway from the night is that an anti-establishment fervor is still pulsing through the GOP base.
All three Republican members of Congress who vied for a Senate nomination in Indiana and West Virginia lost their bids. And in North Carolina, GOP Rep. Robert Pittenger became the first member of Congress to lose re-election in the 2018 cycle after he was ousted in a primary by a Baptist pastor.
Today in Trump's America: Another Russia investigation bombshell drops
News dropped Tuesday night that U.S. companies and a Russian oligarch gave hundreds of thousands of dollars to a shell company that Trump personal lawyer Michael Cohen also used to pay hush money settlements to porn actress Stormy Daniels.
Russian oligarch Viktor Vekselberg — who is on a list of sanctioned Russian nationals — has been questioned by special counsel Robert Mueller's team about money he gave to Cohen's shell company, CNN reported. AT&T also confirmed that it gave Cohen's shell company hundreds of thousands of dollars for "insights into understanding the new administration," according to CNN. Those payments came as AT&T had multiple business-related deals that the Trump administration played a role in, including the net neutrality debate as well as a merger with Time Warner.
Novartis, a major drug company, also allegedly paid Cohen's shell company nearly $400,000. In a statement to CNBC, Novartis didn't deny the payments, instead saying that "any agreements with Essential Consultants were entered before our current CEO taking office in February of this year and have expired."
The payments lead to questions about what Cohen used that money for and how a Russian oligarch and these companies knew Cohen had this shell company in the first place.
Capitol Hill happenings: Haspel faces the Senate
Trump's nominee to lead the CIA will be grilled by members of the Senate Wednesday. Given Haspel spent much of her career as a spy, there is little on her public record, which means senators are likely to probe Haspel on her career in the clandestine agency.
Much of the tough questioning will be about Haspel's role in the CIA's torture program, as she ran a CIA black-site prison in Thailand where two detainees were tortured. Senators are expected to push so hard on that topic that Haspel considered withdrawing her nomination before ultimately deciding to go through with the confirmation process.
The hearing begins at 9:30 a.m. Eastern.
And the rest…
North Korea: Trump announced Wednesday morning that Secretary of State Mike Pompeo will return to the U.S. from North Korea with three Americans who had been detained by the North Korean government. One of the detainees was taken during former President Barack Obama's administration, while two were taken since Trump was sworn in.