Apple's latest update will disable your iPhone's Lightning port if it hasn't been unlocked in 7 days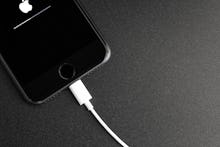 The iPhone is getting a new security feature in iOS 11.4.
Apple's USB Restricted Mode will prevent access to the iPhone's data port if a passcode has not been entered in the last seven days, Elcomsoft reported. While the port can still be used to charge the device, plugged-in cables and accessories won't be able to access data via the port.
Apple's description of the feature indicates a workaround. If a passcode hasn't been entered in seven days, "you must connect an accessory via lightning connector to the device while unlocked."
With USB Restricted Mode on, many users may not notice the difference during normal use of their phone. Who may notice the change, however, is law enforcement.
Tools like GrayKey, for example, install software on the iPhone that guesses the passcode after some time has passed (between a few hours and a few days, MacRumors reported). With the upcoming USB Restricted Mode switched on, this could limit GrayKey's usefulness if law enforcement doesn't meet the seven-day deadline.
Along with the upcoming USB Restricted Mode, iPhones currently have the option of erasing all device data if a wrong passcode is entered 10 times.
Apple has stood up to law enforcement attempting to gain access into users' iPhone data prior to this. The most infamous case of this was the San Bernardino incident: The FBI requested special access into an iPhone belonging to one of the gunmen involved in a shooting in San Bernardino, California. Apple, however, said creating a master key into the iPhone would prove problematic if the software ever leaked. According to Apple CEO Tim Cook, "To invent what they want me to invent puts millions of people at risk."
Many of Apple's newest software features spotlight user privacy and security. The introduction of the privacy icon to see how apps are using your data and the removal of apps from the App Store that send your location to third parties are examples of this. We could see more to come at Apple's World Wide Developers Conference in June.