After bringing a rattail to the red carpet, Kristen Stewart is officially Cannes' best dressed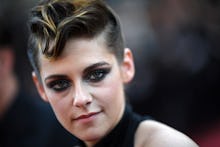 To the opening ceremony of the 2018 Cannes Film Festival, which is one of the swanky festival's swankiest events, Kristen Stewart wore a rather gorgeous black frilly Chanel dress with pleated detailing and a halter neck. Her makeup was dramatic, and her hair was braided, twisted up and curled.
But then when Stewart, who's serving on the jury of the festival this year, turned around, the world saw something that they probably hadn't seen in a good 20 years.
A rattail.
You know, the hair style that is created by a few stray strands of hair left to blow in the wind at the nape of the neck. It may have or may not have been beloved by your fourth-grade crush. (We're not here to judge you.)
Stewart's rattail was even braided, giving it a chic little twist.
And if you're thinking that this was at all incidental, Stewart's rattail was spotted earlier that day, during a press conference for which she wore a powder blue Chanel suit.
So here's our take: This rules. If anyone can pull something like this off (if not Rihanna), then yeah, it would be Stewart.
Also, this only adds to Stewart's history of being a style rule breaker on the unusually strict Cannes red carpet. In 2015, a group of women were turned away from the festival because they were not wearing heels, which was the mandatory footwear for all women at the festival at the time.
Stewart made her own opinion on the matter pretty obviously known the very next year, when she wore sneakers to Cannes on numerous occasions.
"People get very upset at you if you don't wear heels or whatever," Stewart told the Hollywood Reporter in 2017. "I feel like you can't ask that anymore, but it's still a given. If you're not asking guys to wear heels and a dress then you can't ask me either."
Beyond just making statements about sexist footwear, Stewart's style at Cannes, on the whole, has consistently ruled, largely because it is entirely unpredictable, and never as simple as a ballgown.
An example is this phenomenal Chanel dress, which included a crop top, that she wore in 2017.
This mixing of high and low at Cannes was seen back in 2016 as well, when she had a love affair with simple T-shirts during the festival. For a photocall event for her film Cafe Society, Stewart paired a simple white crop top with a cream pencil skirt.
And for the premiere of the film American Honey, she wore a black T-shirt with a black leather midi skirt.
As for other miscellaneous Stewart Cannes looks that have been permanently burned in our brain: There's this wonderful minidress from 2016.
This Chanel look for a Cannes dinner in 2016.
And this bright red number from 2012.
A recent addition to this list now is the blue Chanel suit that the rattail first made its appearance with.
Look at her next to fellow jury members Léa Seydoux and Cate Blanchett.
It's pantsuit perfection.
We'll surely get more outstanding Stewart looks at Cannes over the next few days as the festival continues, but this rattail really is in the running for being the highlight.