Three key questions raised by the payments made to Michael Cohen's shell company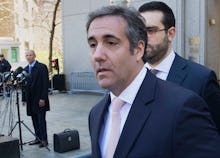 Revelations that a shell company used by attorney Michael Cohen to pay porn actress Stormy Daniels received funds from a company tied to a sanctioned Russian oligarch — as well as major U.S. corporations — has unleashed a torrent of questions that raise the specter of collusion and corruption in President Donald Trump's innermost circle.
On Tuesday night, media-savvy Daniels lawyer Michael Avenatti revealed the payments to an otherwise secret company run by Cohen, Trump's personal lawyer and "fixer." Avenatti claimed that money paid to Essential Consultants — Cohen's shell company — by a firm with ties to Russian oligarch Viktor Vekselberg may have been used to reimburse Cohen for a $130,000 "hush money" payment he made to Daniels in October 2016.
"After significant investigation, we have discovered that Mr. Trump's [attorney] Mr. Cohen received approximately $500,000 in the [months] after the election from a company controlled by a Russian [oligarch] with close ties to Mr. Putin," Avenatti tweeted Tuesday night. "These monies may have reimbursed the [$130,000] payment."
House Democrats are already saying the payments, which have been independently verified by the New York Times, necessitate the reopening of the House Permanent Select Committee on Intelligence's Russia investigation. Republicans on the committee closed the investigation in March and declared they found no evidence of Trump colluding with the Russians.
"The ever-growing web of connections between the president's inner circle and Russian officials is no coincidence," Rep. Mike Quigley (D-Ill.), a member of the House Intelligence Committee, tweeted Wednesday. "Unfortunately, HPSCI Republicans have decided to ignore these blatant links and dismiss all instances of consequential communication — and now direct payment."
It's unclear if the investigation will resume, but in the meantime, here are three key questions the payments have raised.
1. How were these entities steered toward Cohen?
A July report from the New York Times painted Cohen as a former insider pushed out of Trump's inner circle, snubbed for a role in his administration and instead forced to be a "second-string defender," as the Times described.
Around the same time, Cohen was apparently accepting payments from various global companies, some of which have since admitted they were seeking insight into the Trump administration.
Columbus Nova is a New York-based investment firm whose biggest client is the Renova Group, a sanctioned Russian company controlled by Vekselberg. Columbus Nova gave $500,000 to Essential Consulting between January and August 2017.
Vekselberg, who attended Trump's inauguration, was questioned by special counsel Robert Mueller's team earlier this year, the Times recently reported. Vekselberg has denied he had anything to do with Columbus Nova's payments to Cohen.
"Reports today that Viktor Vekselberg used Columbus Nova as a conduit for payments to Michael Cohen are false," Richard Owens, a lawyer for Columbus Nova, told the Times. "The claim that Viktor Vekselberg was involved in or provided any funding for Columbus Nova's engagement of Michael Cohen is patently untrue. Neither Viktor Vekselberg nor anyone else outside of Columbus Nova was involved in the decision to hire Cohen or provided funding for his engagement."
AT&T said it paid $200,000 to Cohen's LLC around the time Trump took office. "Essential Consulting was one of several firms we engaged in early 2017 to provide insights into understanding the new administration," the company said in a statement. "They did no legal or lobbying work for us, and the contract ended in December 2017."
Drug company Novartis said it paid Cohen $1.2 million between February 2017 and February 2018, a deal it has since spoken about with Mueller's team, according to CNBC's Eamon Javers. Just before that contract was executed, then-incoming Novartis CEO Vas Narasimhan dined with the president after the latter delivered a speech at the World Economic Forum in Davos, Switzerland, in January.
A Novartis spokeswoman told the Washington Post the company "believed that Michael Cohen could advise the company as to how the Trump administration might approach certain U.S. health care policy matters, including the Affordable Care Act."
Meanwhile, Korea Aerospace Industries — which paid Cohen's LLC $150,000 — told the Post it sought Cohen's help "to inform reorganization of our internal accounting system."
What's still unclear is how these companies came to solicit Cohen's services. Did he reach out to these companies himself? Were these companies referred to Cohen by someone in the White House? For a man said to be on the outside of Trump's inner circle — and with no policy expertise in telecommunications, pharmaceuticals or the aerospace industry — it begs the question of why these companies thought Cohen would be the right person to advise them on such issues.
It's also concerning that all three companies have business interests that could be impacted by Trump administration decisions. AT&T is facing opposition from the Department of Justice for a multi-billion-dollar merger with Time Warner; Trump has vowed to be tough on drugmakers like Novartis; and Korea Aerospace Industries is competing to sell jets to the U.S. Air Force in a deal worth up to $16 billion, according to Reuters.
2. What was all this money used for?
Altogether, the known payments to Essential Consultants total $2.05 million. So far, only a few of the shell company's outgoing transactions, including the $130,000 payment to Daniels, have been made public.
According to Avenatti's document laying out the transactions from Essential Consultants, Cohen withdrew $1.05 million from the company and deposited it into an individual bank account at Morgan Stanley.
Trump lawyer Rudy Giuliani suggested in an interview on ABC's This Week on Sunday that the Daniels settlement wasn't Cohen's only payment on Trump's behalf. He also admitted such payments could have been made to other women. Could Essential Consultants be involved in those payments, too?
3. Are there more payments?
So far, we know of four entities that directly paid money into Cohen's secret shell corporation. The question remains whether there are more companies or individuals who also contracted Cohen's services.